Commodities' prices stay stable in Kabul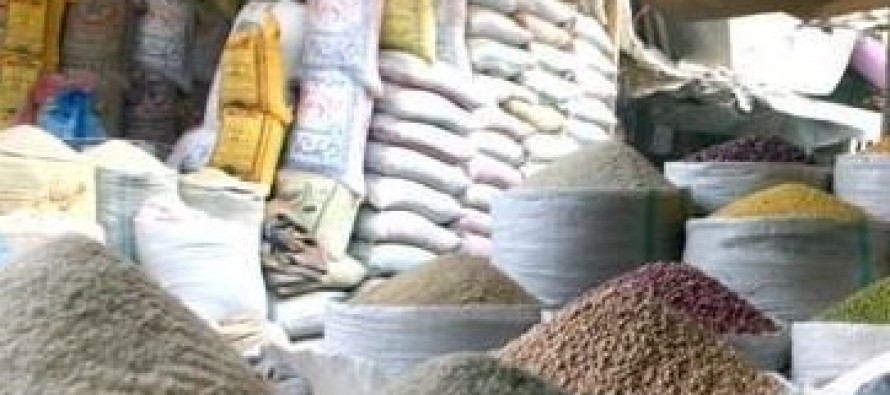 Pajhwok Afghan News Weekly Price Report-The rates of daily-use commodities remained unchanged during the outgoing week in central capital Kabul, retailers said on Thursday.
A 50-kilogram bag of Pakistani sugar sold for 1,650 afghanis ($30.21), a 49-kg sack of Pakistani flour for 1,150 afs and a 24-kg bag of rice for 1,680 afs, the Food Traders' Union head said.
Haji Fazl Rahman told Pajhwok Afghan News a 5-kg tin of Momin ghee cost 400 afs, a kilo of African black tea 210 afs and a similar quantity of Indonesian green tea 175 afs – the same prices as last week's.
But wholesale prices varied from retail rates in some parts of the city. Khan Ali, a shopkeeper in the Karta-i-Seh locality, sold a 50-kg sack of Pakistani sugar for 1,850 afs, a 24-kg bag of rice for 2,100 afs and 49-kg sack of Pakistani flour for 1,250 afs, a five-kg tin of Momin ghee for 460 afs, a kilogram of African back tea for 260 afs and one kg of Indonesian green tea for 220 afs.
Fuel prices also remained stable during the week, with a liter of petrol costing 55 afs and diesel 60 afs, said Abdul Hadi, a filling station owner in the Wazirabad area.
Mohammad Javed, a retailer in Taimani neighborhood, said a kilo of gas sold for 50afs, the same price as last week's.
No change was seen in the prices of gold as one gram of Arabian gold sold for 2,200afs and the same amount of the Iranian variety for 1,800afs, said jeweler Abdul Basir in Lycee-i-Maryam locality.
Moneychanger Ahmad Shah said the buying rate of a US dollar was 54.60 afs, while 1,000 Pakistani rupees accounted for 556 afs. Last week's exchange value of the greenback stood at 55.40 afs and 1,000 Pakistani rupees at 556afs, he recalled.
---
---
Related Articles
Finance Minister Hazrat Omar Zakhilwal discussed the policy draft on how to encourage investment with the Council of Ministers on
According to a recent report by the Export Promotion Department of the Afghanistan Chamber of Commerce and Industries (ACC), Afghanistan's
Pajhwok Afghan News Weekly Price Report (By Zarghona Salehi) The gold price declined, other daily-use commodity rates increased and the