Construction of a hospital and two irrigation canals in Badakhshan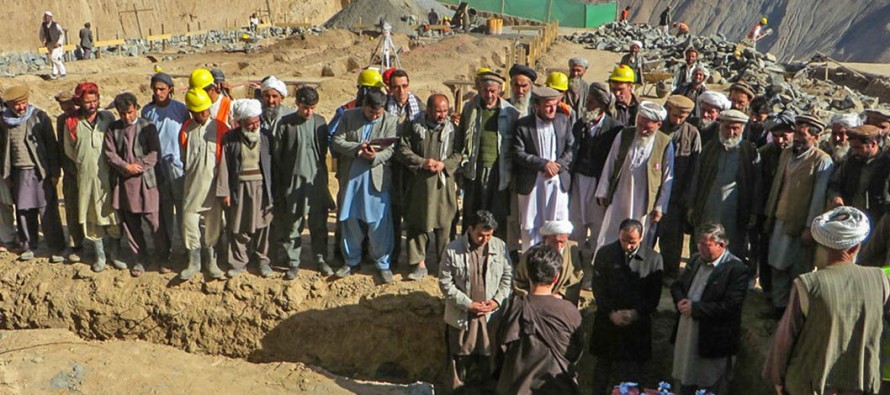 Work on the construction a new health centre and two irrigation canals has kicked off in Badakhshan province and is expected to be completed by the end of next year.
Costing a total cost of about AFN 24mn, the projects are implemented by the German government via the Stabilization Program for Northern Afghanistan (SPNA).
Provincial public health officials, the District Governor, elders, District Development Assembly (DDA) members, representatives of the American NGO Mercy Corps as well as the Afghan-German Cooperation attended the event.
The new hospital will provide health care services to approximately 60,000 people living in the district.
Currently, this hospital operates in an old building with limited facilities. And, residents cannot access health facilities in Badakhshan's capital city Feyzabad due to poor roads and bad weather conditions.
Malawi Abdul Basir, Head of the Naland Community Development Council said: "The old building doesn't have an adequate pharmacy, delivery, patient or waiting rooms. It was really hard for doctors to operate in such environment".
The new hospital building includes patient rooms, a laboratory, a pharmacy, a vaccination room, separate staff rooms for female and male employees and toilets. A delivery unit as well as a tuberculosis unit will be constructed as well. The building will be entirely equipped with electrical, water and sanitation systems.
The two canals are the Sarai-Dara irrigation canal in Argo district and Dasht-e Zanborak canal in Teshkan district. Both canals will irrigate more than 2,000 acres of land. More than 2,500 families in these two districts will benefit from the construction.
The decision to build this hospital as well as the two irrigation canals was based on the District Development Plan. This plan was jointly developed by the respective District Development Assemblies (DDAs), the Department of Public Health DoPH and the Lower Panj River Basin Department (LPRBD). The German government's Stabilization Program for Northern Afghanistan (SPNA) provided support for implementing these projects.
The program SPNA is funded by the German Federal Foreign Office, managed by KfW Development Bank and implemented by the Aga Khan Foundation in partnership with the non-governmental organization Mercy Corps and the French Agency for Technical Cooperation and Development (ACTED). The entire program's budget amounts to more than AFN 7 billion for the period 2010-2018, targeting the Northern provinces Badakhshan, Takhar, Kunduz and Baghlan. So far, more than 412 small and medium sized infrastructure projects (most of them educational infrastructure) have been funded in 57 districts. In Badakhshan alone, 104 projects have been accomplished in 21 districts, including the provincial capital Feyzabad.
---
---
Related Articles
The deputy ambassadors of the US and Germany, during their visit to Mazar-e-Sharif- capital of the northern province of Balkh,
Dr. Guy Fipps, Texas A&M ArgiLife Extension Service irrigation engineer, received the Professional Engineer award of the Year by the
Afghanistan's Lower House of the Parliament, the Wolesi Jerga, approved the much-awaited national draft budget after it was revised by