Construction of a Health Training Center in Mazar-e Sharif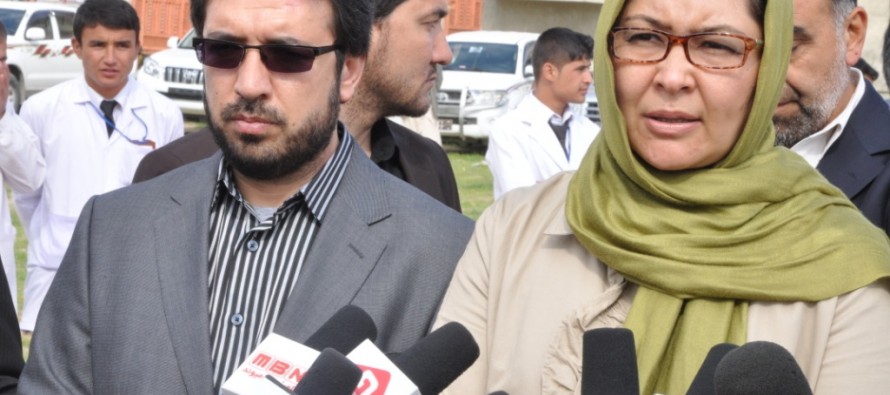 On April 1st2013 a cornerstone ceremony of a new Health Training Centre for the Department of Public Health of Balkh Province took place in Mazar-e Sharif. The Minister of Public Health, H.E. Dr. Suraya Dalil, the provincial Deputy Governor of Balkh Province, Mr. Zahir Wahdat, the Director of the Department of Public Health of Balkh Province, Dr. Mirwais Rabeh, the Director of the Provincial Council, Dr. Afzal Adid, Directors of Department of Public Health of northern provinces as well as other representatives from the provincial government of Balkh and of German Cooperation with Afghanistan attended the ceremony.
Based on a decision of the Provincial Development Committee (PDC) Balkh in April 2011, the Health Training Centre is realised by the Department of Public Health of Balkh Province. The Department of Public Health is the leading department for providing health services in Balkh and is currently operating a 500-bed hospital in Mazar-e Sharif as well as a 50-bed plastic surgery and burn treatment hospital, a 50-bed addiction treatment hospital, five other 50-bed hospitals and 88 health clinics at district level and in remote areas that deliver free and fair health services to the residents of Balkh Province as per policy of the Ministry of Public Health.
The new Health Training Centre, which will be composed as a two storey building with a fully equipped training hall, is supported by the Regional Capacity Development Fund (RCDF) and financed by the German Federal Ministry for Economic Cooperation and Development (BMZ). The project will support around 25,000 doctors, nurses, midwives, technicians and health workers in the following nine provinces of Afghanistan: Balkh, Kunduz, Baghlan,Takhar, Badakhshan, Samangan, Jowzjan, Faryab and Sar-e Pol. Trainings and workshops conducted in the Health Training Centre will enable them to improve health care services and to provide appropriate medical treatment at local level. Trainings in the field of emergency medicine, reproductive health and family planning, HIV/ AIDS as well as Tuberculosis have already been conducted.
As part of Afghan-German Cooperation, the RCDF is implemented by Deutsche Gesellschaft fuer Internationale Zusammenarbeit (GIZ) GmbH. The RCDF is supporting the development priorities of the Afghan partners at provincial and district level in five northern provinces of Afghanistan while at the same providing training and coaching programmes for civil servants. With its broad range of activities, the RCDF aims to increase Afghan ownership of the development process, strengthen Afghan state institutions on sub-national level and promote transparency and inclusiveness.
---
---
Related Articles
The second day of the prosecution on the fall of Kabul Bank was launched on Saturday. Twenty-two people have been
Completed under the National Solidarity Program (NSP), seventeen infrastructure projects are inaugurated in the northern province of Kunduz. The projects
Located in a region prone to natural disasters, Afghanistan and particularly its northern areas are vulnerable to multiple hazards. According