Construction of important side ditches starts in Taluqan with German funding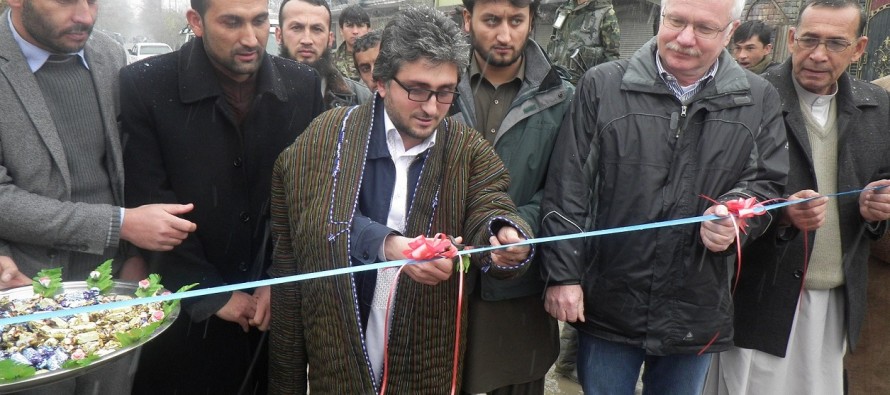 Takhar province's Department of Public Works (DoPW) officially inaugurated construction works for two kilometres of roadside ditches in the provincial capital, Taluqan, on Sunday. The construction of the ditches will cost almost AFN 5.7 million in funding from the German government. The ditches will be positioned along a two-kilometre stretch of road and and will improve the transportation and irrigation system for 7,000 people who live in the Black Ortaboz and Haji Zarif areas of Taluqan. Construction measures will include excavating a foundation and a concrete cemented ditch basin with stone masonry. The ditches will help excess water and floodwater runoff from the street properly and prevent flooding and damage to the road.
At the ground-breaking ceremony hosted by the Takhar Department of Public Works, Mr. Sayed Abdul Rauf, Director of Department of Public Works said, "This road is in bad condition, especially during winter and spring. Due to a lack of proper ditches, water often floods the road and makes it difficult for vehicles and passerby to commute properly. With this project, the road conditions will be improved and provides proper transportation and irrigation for the people. Our hope for the future is to be able to asphalt the road in coordination with the communities."
At the ceremony, Mr. Rauf was joined by Mr. Abdul Latif Ibrahimi, Takhar Provincial Governor, and Mr. Maqsom Ayub, Deputy Mayor of Taluqan, together with more than 100 representatives from the Provincial Development Committee, Provincial Council, District Development Assembly (DDA), Community Development Councils (CDCs), elders, religious leaders, citizens of Black Ortaboz and Haji Zarif area, members of Afghan-German Cooperation and Mr. Frank Pohl, BMZ representative.
This project was proposed to the Provincial Development Committee (PDC) by the Department of Economy in Takhar province. The Provincial Development Committee approved the project and assigned the Department of Public Works to manage construction. Technical assistance for the project comes from the Regional Capacity Development Fund (RCDF), financed by Germany's Federal Ministry for Economic Cooperation and Development (BMZ).
As part of the Afghan-German Cooperation program, the RCDF is implemented by Deutsche Gesellschaft für Internationale Zusammenarbeit (GIZ) GmbH. The RCDF provides support for its Afghan partners' development priorities both on a provincial and district level in six of Afghanistan's Northern provinces. At the same time, the RCDF provides training and coaching programs for civil servants. With its broad range of activities, the RCDF aims to increase Afghan ownership of the development process, strengthen Afghan state institutions on the sub-national level and promote transparency and inclusiveness.
---
---
Related Articles
Mary Akrami is renowned for her inspirational and influential works in envisioning an equitable and peaceful society in Afghanistan. We
A pilot USAID project is connecting suppliers and wheat farmers to boost sales of high quality seeds that can increase
A training center for about 500 ex-drug users is established to provide them training in carpentry, tailoring, tiles making and