Construction work of Kandahar's cricket stadium kicks off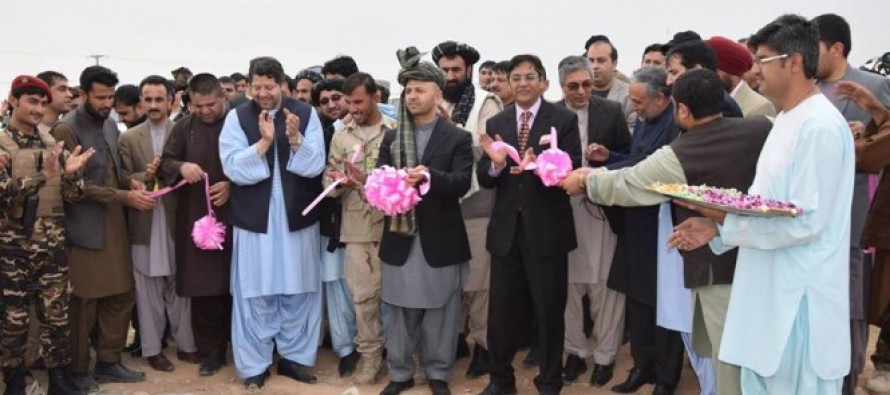 The construction work of Kandahar cricket stadium was officially inaugurated on Monday with financial collaboration from the government of India.
The Indian government had approved the construction of the stadium in mid-2014 at a cost of USD 1mn.
"Excellency, in your capacity as the Chief Patron of the Afghan Cricket Board (ACB), you will be happy to know that Government of India has just approved USD 1 million for construction of the Kandahar Cricket stadium at Aino Mena, Kandahar under the Small Development Project Scheme. This was a project that ACB has been closely following with us and we will be working with them to have the work started on this important project at the earliest," a letter issued by the Indian embassy in mid-2014 said.
"We have released that sports, both cricket and football, have united the country and enthused the youth as nothing else. We hope that this new facility, and the various initiatives taken by ACB would further popularize cricket and bring greater glory to the nation. We are encouraged by Afghan cricket team's recent performance in Zimbabwe," the letter added.
The officials of the Indian Embassy in Kabul said the stadium would provide an immense opportunity for the development of cricket in Afghanistan.
The inauguration follows a month after an agreement was signed between the Afghanistan Cricket Board (ACB) and a private firm of the construction of the stadium.
This is another major contribution from the Indian government to the reconstruction of Afghanistan. Indian government is also funding the construction of a new parliament building in Kabul that will be handed over the Afghan authorities by 31st March, 2016. The edifice is being built by India as a gift to the Afghan people aspiring to move towards a peaceful democracy.
The neighboring country also agreed to invest more in the Salma Dam project with approving cost revision from USD 200mn estimated in 2016 to USD 268mn. Located in western Herat province, the dam is expected to produce 28MW of electricity until spring of 2016.
---
---
Related Articles
The price of a 50-Kg bag of Brazilian sugar went down from 2,014 afs to 2,000 afs, and the same
Russia has agreed to sell oil to Afghanistan at a discounted price of USD 95 on each ton of oil
The Ministry of Agriculture, Irrigation and Livestock (MAIL) said honey production is on the rise in Bamyan province and will