Consultation held in Herat to discuss trade challenges & opportunities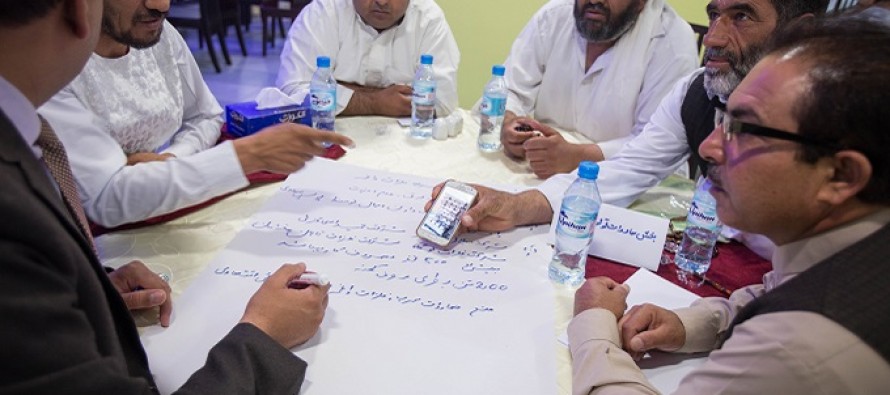 Afghan industry leaders, small business owners and representatives from the public sector met in Herat on August 13 to explore trade-related provincial challenges and solutions that can feed into the ongoing design of the country's National Export Strategy (NES).
The NES will provide a blueprint for competitiveness and development of the country's export sector and strengthen links between export development and socio-economic growth.
It will include detailed activities, targets and impact measures, indicating what exactly needs to be done, by whom and with what resources to improve the country's export competitiveness.
The event was jointly organized by Afghanistan's Ministry of Commerce and Industry (MoCI) and the Afghanistan Chamber of Commerce and Industry (ACCI), with the technical support of the International Trade Centre (ITC).
The consultation in Herat follows the first NES stakeholders' consultation held in Kabul on 20-21 February and in Mazar-e-Sharif on 18 May.
A major trading hub, Herat province plays a significant economic role in Afghanistan. It hosts a number of traditional and emerging industries, including sectors prioritized in the NES, such as fresh fruits and vegetables, dried fruits and nuts, marble and saffron.
Between August and September 2017, further consultations will be held in Kandahar and Jalalabad, culminating in a second national consultation in Kabul. The provincial NES consultations are crucial in making sure that stakeholders beyond the capital are included in the design of the strategy. These consultations are complemented with factory visits to assess supply-side issues in prioritized sectors.
The NES has strong support from both the government and the private sector, as it provides national and international development partners with an appropriate implementation plan for trade-related operations. Resource mobilization efforts will be developed in line with the strategy's plan of action.
'The project aims to strengthen the country's trade capacity so as to capitalize on the recent accession of the country to the World Trade Organization' and will contribute to enhancing the competitiveness of Afghanistan within the region,' said Humayoon Rasaw, Afghanistan's Minister of Commerce and Industry.
Atiqullah Nusrat, Chief Executive Officer of the Afghan Chamber of Commerce and Industry, said: 'This event is an essential breakthrough in capturing, advocating and addressing the challenges, opportunities, and aspirations of the private sector in the Herat region. This will contribute to render the National Export Strategy of Afghanistan even more relevant, inclusive and realistic'.
The NES initiative falls under the auspices of the 'Advancing Afghanistan Trade' project, funded by the European Union, which aims to assist Afghanistan in improving the conditions to use trade as a lever for enhanced regional cooperation, economic and human development, and poverty reduction.
The Advancing Afghan Trade project is a project funded by the EU and is being implemented by ITC under the leadership of the MoCI.
The International Trade Centre is the joint agency of the World Trade Organization and the United Nations. ITC assists small and medium-sized enterprises in developing and transition economies to become more competitive in global markets, thereby contributing to sustainable economic development within the frameworks of the Aid-for-Trade agenda and the United Nations' Sustainable Development Goals
---
---
Related Articles
Women's Affairs Department in southern Kandahar province trained 400 women in tailoring, embroidery, curtain making, beautician and bead making in
The newly built 103km highway, which was inaugurated on Tuesday, from Keshim to Faizabad has been a fortune for the
About 10,245 families have benefited from 42 development projects that have been implemented in Zazi Maidan, Tanai, Bak, Sabary, Musakhil,