Contract for Kabul's largest-ever residential scheme signed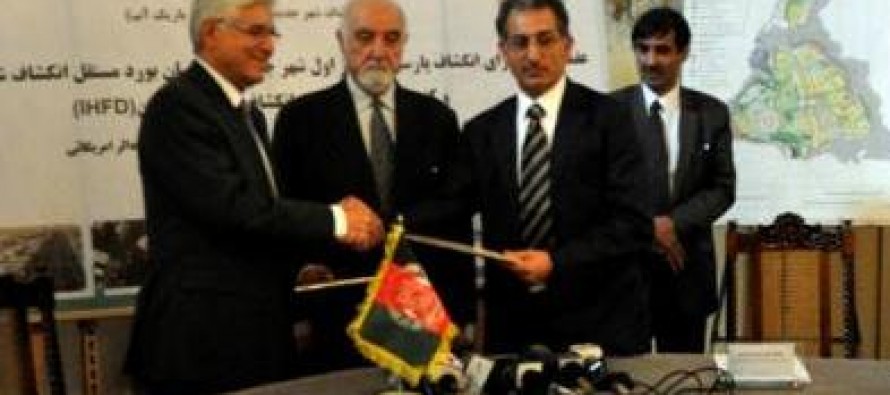 The USD 1bn contract for New Kabul City plan was signed between New Kabul City Independent Board and an international consortium, led by an American corporation with partners from Canada, the United Arab Emirates (UAE), Australia, Germany and Afghanistan.
The scheme will be implemented in Deh Sabz district north of Kabul over 185,000 acres of land.
Initiated by the Japanese International Cooperation Agency (JICA) in 2006, the project is the country's largest-ever residential scheme that would accommodate 1.5mn residents of Kabul, where 4.5mn people are currently residing.
The signing of the contract will kick off the first phase of the project.
Deputy Chairman of the board, Ghulam Sakhi Hassanzada, said more than 6,000 housing complexes with facilities for 40,000 people would be constructed, allowing job opportunities for 7,000 people.
The project will be handled by a group of engineers and professionals from different countries, said the consortium director Riffat Bashir Ludin.
The total cost of the project is estimated to be USD 80bn.
---
---
Related Articles
Da Afghanistan Breshna Sherkat (DABS), Afghanistan's electricity company, has disconnected the power supply of some of the high-rank officials who
The fourth cargo plane flying from southern Kandahar province through the Afghanistan-India air corridor exported fresh and dried fruits weighing
A Pakistani newspaper has recently reported that Afghanistan's imports from Pakistan stood at USD 1.69 in 2014-2015, making the land-locked