Cornerstone ceremony for Khwaja Burhan Bridge in Khulm district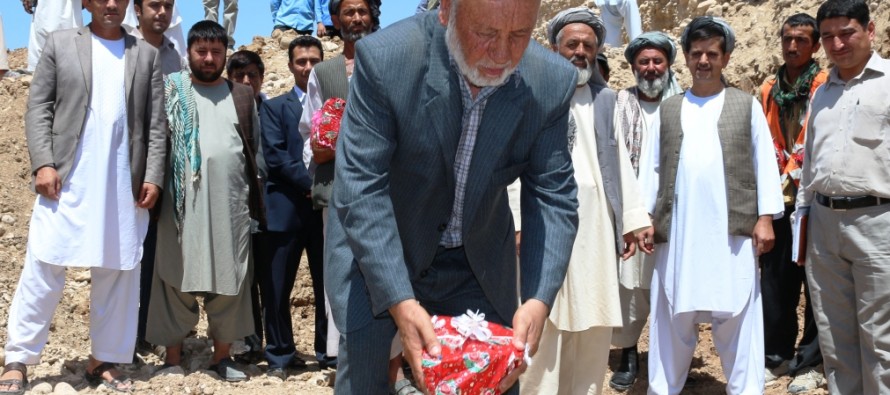 With a total budget of AFN 15.5 million Germany finances bridge overnight canadian viagra construction in Balkh province in Khwaja Burhan village that will connect 16 villages with the center of the Khulm district.
The cornerstone ceremony for cialis generic sale the start of a bridge construction with 26m length and 5m width in Khwaja Burhan village took place on Thursday.
The bridge will connect 16 villages with the centre of the Khulm district. With animproved traffic route the residents of the cheap viagra with fast delivery villages will have better road connection to the centre of the district which will help to boost economic development in the area.
Mr. Sayed Ibrar Hashimi, Khulm District Governor, Eng. Basid Ainey, Director of the Department of Rural Rehabilitation and Development of Balkh province, Mr. Mohammad Jan Makhdom, member of the Provincial Council, Mr. Abdul Hameed, Head of District canada viagra no prescription Development Assembly of Khulm district, Mr. Abdul Khaliq Tamkeen, Governance and Development specialist of PGO, together with Afghan-German Development Cooperation representatives marked the official start of the construction site.  Mr. Sayed IbrarHashimiofficially opened the construction site and welcomed the commitment of the German Government to improve the living conditions of the residents in Khulm and the surrounding villages. "Our children – boys and girls – will have better access to school. Our farmers will have better access online order propecia to markets. Overall, this bridge will have a positive impact on the economic and social development of 16 villages", he stated.
The decision for the construction of the KhwajaBurhan Bridge was made in July 2011 by the Balkh Provincial Development Committee. The project is implemented by the Department of Rural Rehabilitation and Development of Balkh province, supported by the Regional Capacity Development Fund (RCDF) which is financed by the German Federal Ministry for Economic Cooperation and Development (BMZ).
As part of Afghan-German Development Cooperation, the RCDF is implemented by Deutsche GesellschaftfürInternationale Zusammenarbeit (GIZ) GmbH. In six Northern provinces of Afghanistan, the RCDF supports the development priorities of the Afghan partners at the provincial and district level, while providing training and coaching programmes for civil servants. With its broad range of activities, the RCDF aims to increase Afghan ownership of the development process, strengthen Afghan state institutions on the sub-national level and promote transparency and inclusiveness.
---
---
Related Articles
Embassy of India in Kabul in partnership with Kabul Chamber of Commerce and Industries (KCCI) and PHD Chamber of Commerce
Two schools and a hospital were inaugurated in Qala Naw city of Badghis province, said officials. The three projects were
Officials of the Afghan Government, the Aga Khan Trust for Culture (AKTC) as well as KfW German Development Bank signed