Cornerstone laying ceremony for German-funded faculty building in Balkh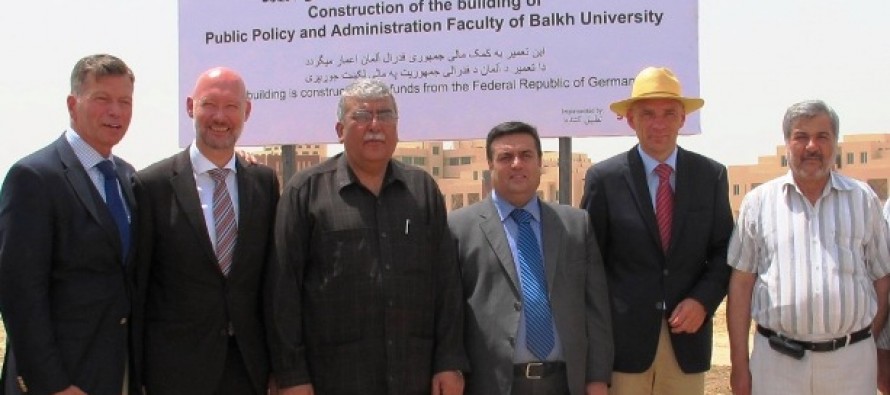 On July 30th, 2013, the cornerstone for the new Faculty of Public Administration and Policy was laid on the new campus of the Balkh University in Mazar-e-Sharif. The deputy governor of Balkh province, the chancellor of Balkh University, a representative of the Afghan Ministry of Higher Education as well as high ranking German diplomats attended the ceremony. The construction is one part of the German commitment to strengthen public ad- ministration education and improve the efficiency of the civil service in Afghanistan.
The director of planning of the Afghan Ministry of Higher Education, Mr. Abdul Munir Mehrwar emphasized that "2013 (1392) was a special year for Balkh University. The new building for the Faculty of Engineering has been completed and handed over, the construc- tion for the Faculties of Economic and Sharia are ongoing with the Ministry of Higher Edu- cation funding and today, with the inauguration of the construction, another milestone can be celebrated."
The building will create room for up to 800 students and 200 staff. The modern study environment including a new library will enable students to excel in learning and research and bring forward Public Administration as a subject in Balkh University. The construction is expected to be completed in the second quarter of 2014.
"This day marks a significant step forward in the improvement of public administration education in northern Afghanistan", says Wolf Plesmann, head of portfolio at GIZ. "In addi- tion, it clearly demonstrates the efforts undertaken by Balkh University to concentrate its activities on a new and modern campus on the edge of the city."
Financed by the German Federal Foreign Office the construction of the new faculty build- ing at total costs USD 5.2 million and is one part of a bigger German commitment to im- prove public administration education and the efficiency of service provision in the coun- try. The project "Strengthening of Public Administration Education in Afghanistan" sup- ports the Ministry of Higher Education and the Afghanistan Civil Service Institute in creating a standardized approach for the education and advanced training of prospective civil servants. To achieve this, Deutsche Gesellschaft für Internationale Zusammenarbeit (GIZ) GmbH in collaboration with Potsdam University supports and advises the universities in Mazar-e Sharif, Herat, Jalalabad, Kandahar and Kabul in the establishment of a bachelor program of Public Administration.
---
---
Related Articles
Afghan Ministry of Defense has informed that reconstruction work of Alchin bridge, the main bridge connecting the northern provinces with
Afghan Ministry of Economy introduced a monitoring and reporting database to officials from the provinces of Kandahar, Helmand, Zabul and
The construction work of Kandahar cricket stadium was officially inaugurated on Monday with financial collaboration from the government of India.