Cornerstone of Women Training Centre and Women Market laid in Faizabad with German aid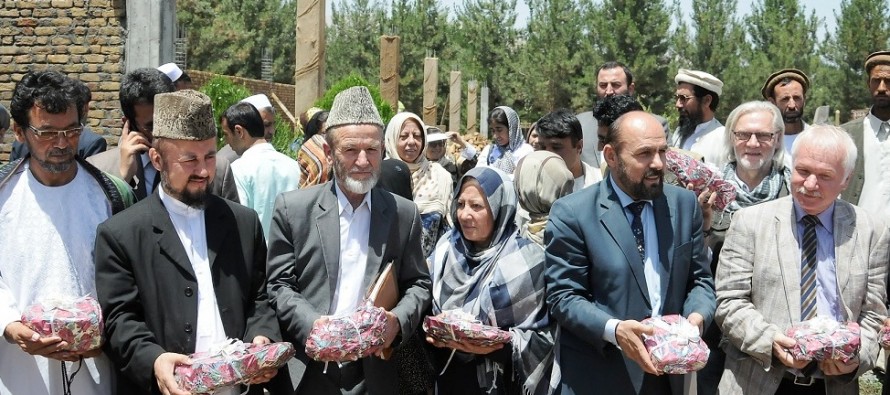 Women in Badakhshan will soon benefit from better facilities for training and better job opportunities through construction of a new women's training centre and women's market in Faizabad. With AFN 24 million in funding from Afghan-German Cooperation, the new facilities are part of a new capacity development initiative for women buy cialis australia in Badakhshan province.
The Department of Women Affairs in Badakhshan Province (DoWA) and the Office of the Provincial Governor celebrated the groundbreaking ceremony for construction of a new Women's Training Centre and Women's Market on discount canadian cialis Monday in Faizabad, Badakhshan.
The Women's Training Centre will put the DoWA and its stakeholders in a better position to promote gender equality, deal with women's affairs as a cross-cutting topic throughout various development issues in Badakhshan and provide women leaders with the capacity development measures they need.
The training centre will focus on issues, such as legal awareness, violence against women, women's rights, English, computer and management skills and healthcare. The Women's Market next door to the centre will give local businesswomen opportunities to market their goods and services in Faizabad. They will benefit from better market access and will also help generate local employment.
In the next months, women entrepreneurs will receive training and consulting for developing their business plan. Support will also be provided through various capacity development measures to be able to take advantage of the new opportunity once the centre and the market are competed. In addition, the construction projects will enable women and men in the province to access services provided by the Provincial Government and make them aware of their rights and responsibilities in the community. The projects will help strengthen the capacity of women and men in the province and help improve employment opportunities in the market.
Taking part in the opening ceremony, Dr. Shah Wali Allah Adib, the Governor of Badakhshan, Mr. Abdul Ghafor Ferogh, Head of Badakhshan Economy Department and Mrs. Zofnon Hasam Natiq, Head of Women Affairs Department in Badakhshan, were joined by more than 100 representatives from Badakhshan line departments, women activists and entrepreneurs, community leaders, elders and religious leaders. Representing German Cooperation with Afghanistan, Dr. Frank Pohl, BMZ Development Commissioner, also took part in the event.
The Women's Training Centre and Women's Market project was first drawn up in 2006 by the Department of Women's Affairs (DoWA) in close cooperation with the Provincial Governor's Office (PGO) in Faizabad. In 2011, the proposal was prioritized and decision for construction of the building was made by the Provincial Development Committee (PDC). The Department started implementation with support from the Regional Capacity Development Fund (RCDF) and financing from the German Federal Ministry for Economic Cooperation and Development (BMZ).The Women's Training Centre and Women's Market are part of a priority initiative for "capacity development for women and addressing their problems on provincial and district levels", which provides capacity development to enhance domestic production and employment for women and men in Faizabad and in the 27 districts of Badakhshan province.
---
---
Related Articles
The tribal elders and religious scholars in Khost province have found a new solution for the costly weddings in Afghanistan.
The National Solidarity Program (NSP) of the Ministry of Rural Rehabilitation and Development (MRRD) implemented 11 development projects in Char
The Afghan Finance Ministry has reported collecting 7.17bn Afghanis in revenue in the past 15 days, bringing the total revenue