Course in Kabul to help Afghans launch start-up companies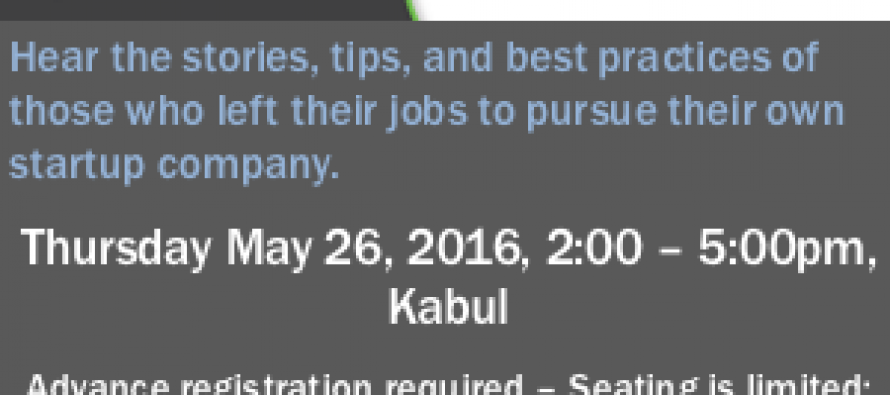 Afghans thinking about launching their own company had the chance to hear from seasoned entrepreneurs, now running profitable companies and working full time for their own companies, who addressed the topic of transitioning from working for someone else to working for yourself.
The event, Making The Leap: From Employee to Entrepreneur, was held on Thursday at Sufi Restaurant in Kabul, by Founders Institute (FI).
The speakers included: Suleman Fatimie, Managing Partner, Afghanistan Center of Excellence (ACE); Danish Karokhel, Director & Editor-in-Chief, Pajhwok Afghan News; and Amina Shahabi, a high school student who founded a woodwork company in Kabul after her idea won an entrepreneurship competition.
In addition to the presentation, guests also had the chance to ask the presenters questions about their experience, and to learn more about FI's upcoming program in Kabul, and to network before and after the event.
"In contrast to the popular perception, Kabul has a small but vibrant start-up ecosystem, and we are trying to enrich it further and give serious support to promising entrepreneurs to help them navigate that ecosystem and launch great companies," said Jamshid Hashimi, Co-Director of Founder Institute in Kabul. "Start-ups can be a real engine to our economy, and there is so much potential for Kabul to be a city where start-ups want to be," he added. "Events like the one on Thursday are a chance to learn from the experience of successful business people in Kabul, and to get motivated to launch more promising companies, and help our economy grow."
The Founder Institute is the world's premier idea-stage accelerator and start-up launch program, whose graduates have created 2,100 companies launched with a 79% company survival rate, having created over 15,000 jobs (as of June 2016). FI is the most challenging and effective step-by-step Start-up launch program for talented and motivated aspiring entrepreneurs. It provides a structured process, constant feedback and evaluation from expert mentors, and global network of entrepreneurs to support entrepreneurs to start an enduring company. In addition, the Founder Institute is the only program of its kind that focuses on people versus ideas, accepts founders with day jobs, and shares equity with all participants.
FI's structured, 4-month curriculum of weekly training courses and business-building assignments will start in Kabul this summer. FI is now accepting applicants from Kabul and is particularly encouraging female entrepreneurs to apply, offering a limited number of scholarships to support their participation.
---
---
Related Articles
Afghanistan Ministry of Commerce and Industries has welcomed India's USD 156mn investment decision to development Chabahar port. The Ministry's spokesperson,
Afghanistan Marble industry is still at a nascent stage and modern excavation techniques are not in vogue. This sector is
The Pajhwok Afghan News reports that hundreds of special people completed a nine-month training course in central Logar province. Logar