CSO estimates Afghanistan's population at 29.2mn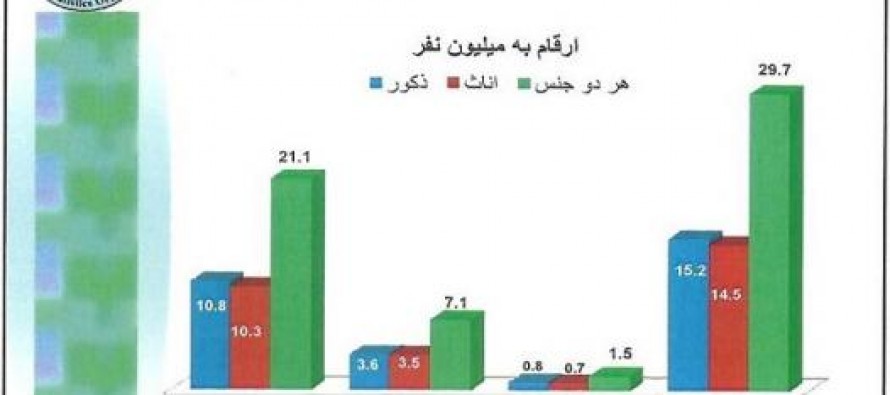 According to the 1395 statistical yearbook by the Central Statistics Organization (CSO), Afghanistan's population has reached 29.2mn.
The estimate shows 14.2mn of the population are women. Furthermore, 6.9mn people are living in urban centers and 20.8mn in rural areas.
The statistical yearbook, presented on Tuesday at a press conference in Kabul, provides data on agriculture, education, health, stock, industry, construction, rehabilitation, energy, services, foreign business, currency and foreign aid.
Some of the statistics include:
Government employees' education level: 286 employees have doctorate degrees, more than 4,800 have master's degrees, 350 BS honor, more than 55,000 bachelor's, 230,000 secondary and 12,200 others have unknown education documents.
Students attending schools: More than 9.4 million students are attending schools, technical and professional institutes, teacher training and Islamic education centers inside and outside the country. More than 9 million students have been enrolled in state-run educational centers and 340,000 in private centers. The statistics show a 2.4 percent decrease in students attending low level educational centers compares to last year.
Healthcare Center: The number of healthcare centers has increased by 1.9 percent with 2,173 health centers operating in 1395 compared to previous year's 2,216.
Import/Export: The volume of Afghanistan imports stood at $7,700 million and exports at USD 570 million in 1394 solar year. But the imports in 1395 solar year decreased by USD 1,180 million and exports by 25 million AFN.
---
---
Related Articles
Afghanistan needs its young and educated people for the country's sustainable development and a prosperous future. This was the conclusion
By Cheryl Pellerin American Forces Press Service A high-tech mineral-mapping effort nearly complete in Afghanistan and the first of its
Ariana Afghan Airlines officials claim to have been moving towards self-sufficiency despite having faced millions of dollars in losses in