Customs Academy established in Kabul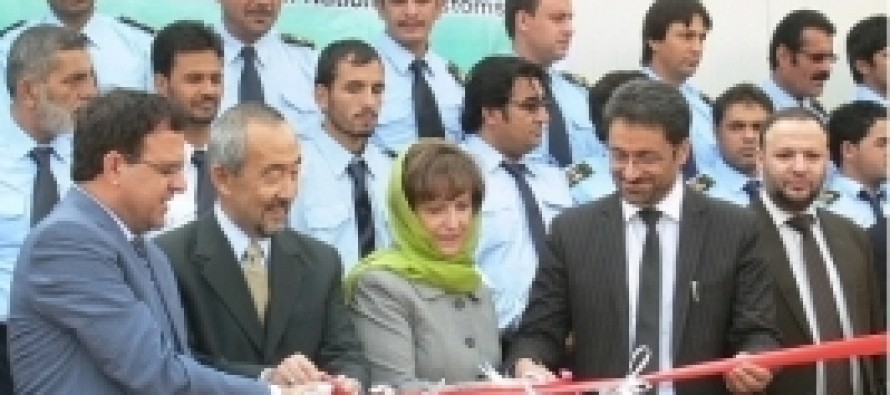 The Afghan Customs Department hosted a ceremony for the formal opening of the new Afghan National Customs Academy (ANCA) on Oct. 23, 2013 in Kabul. The ceremony coincided with the start of the first ANCA Class to be held in the new facility and included the participation of thirty nine students currently enrolled in Class 17 which started on Oct. 19.
The ANCA was established in 2009, and prior to today's dedication, had been operating out of a temporary facility. The first class of 48 students graduated on March 15, 2010, and a total of 807 Afghan Customs Department (ACD) students from 16 classes have graduated from ANCA since 2009.
The United States and European Commission (EC) worked together with ACD leadership to construct this modern, purpose-built campus for ANCA. The EC and U.S. Central Command Counter Narcotics (CENTCOM-CN) provided funding for the facility, which is capable of hosting over 400 ANCA students per year.
The academy will enable employees of the Finance Ministry and custom houses across the country to build up their capabilities and perform their duties professionally.
"From now on employees appointed in customs houses should benefit from professional education they seek in this academy," said Finance Minister Dr. Hazrat Omar Zakhilwal at the inaugural ceremony.
Costing USD 4 million, the academy is equipped with modern technology.
Finance Minister said more of such academies would be built in other provinces to enhance performance of customs houses.
---
---
Related Articles
The only road leading from the capital of Kunar to Nuristan has been blocked due to security concerns for the
The much awaited Central Asia South Asia electricity import project (CASA-1000) is slated for inauguration on May 12. The Afghan
Pace Design is Afghanistan's first interior design company established in 2010 and registered with Afghanistan Investment Support Agency (AISA). Pace