Department of Urban Development in Feyzabad receives new administrative building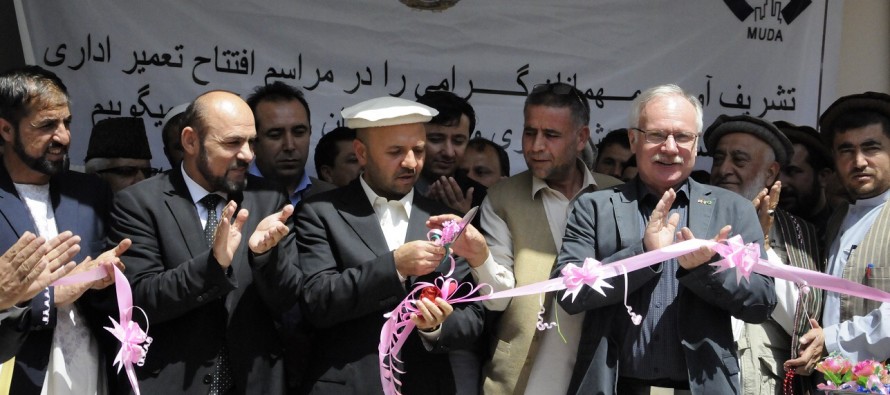 The Department of Urban Development (DoUD) inaugurated the new administrative building in Badakhshan's capital Feyzabad on Sunday.
The new building will provide DoUD civil servants with a better working environment, which will have a positive impact on the quality of their services for the people.
Construction was supported by the German government at around AFN 25 million.
The new two-story administrative building of the DoUD has 11 offices, a conference hall, a kitchen, sanitary rooms, a deep well, and a solar system. The new working environment allows the department to better plan and manage urban development policies, provide support for infrastructure projects in the municipalities, prepare urban development plans, and monitor construction of buildings. It will also be easier for the DoUD to support municipalities in Feyzabad and other districts of the province.
Speaking at the opening ceremony in Feyzabad, Dr Frank Pohl, German Development Commissioner said that "the Afghan government, at national and provincial level, recognizes people's need for good services. The government is committed to addressing the shortcomings with the support of the international community."
Sayed Saadat Manour Nadiri, Minister for the Department of Urban Development, Members of Afghan Parliament and the Provincial Council, Dr. Shah Wali Adib, Acting Governor of Badakhshan, Mohammad Taheer Yaqoobi, DoUD director, heads of Line Departments, civil society activists as well as religious leaders and elders were present at the ceremony.
The decision for the construction of the buildings was taken by the Provincial Development Committee Badakhshan. The DoUD and the PGO were responsible for completing the construction. They were supported by the German program for Regional Capacity Development (RCD), which is funded by the German Federal Ministry for Economic Cooperation and Development (BMZ). The new facilities were built according to the standard design of the Ministry of Urban Development.
As part of the Afghan-German Cooperation program, the RCD is implemented by Deutsche Gesellschaft für Internationale Zusammenarbeit (GIZ) GmbH. The RCD provides supports for its Afghan partners' development priorities both on a provincial and a district level in six of Afghanistan's Northern provinces. At the same time, the RCD provides training and coaching programs for civil servants. With its broad range of activities, the RCD aims to increase Afghan ownership of the development process, strengthen Afghan state institutions on the sub-national level and promote transparency and inclusiveness.
---
---
Related Articles
This article was originally published on Free Women Writers. Recently I came across an Afghan couple who seemed to be
Pakistan's largest bank by asset and the country's biggest lender, the Habib Bank Limited (HBL) has announced its exit from
Last week a delegation of the Afghan Chamber of Commerce and Industries (ACCI) visited several organizations in Berlin, Bonn, Cologne