Development projects completed in Sar-e-Pul, Uruzgan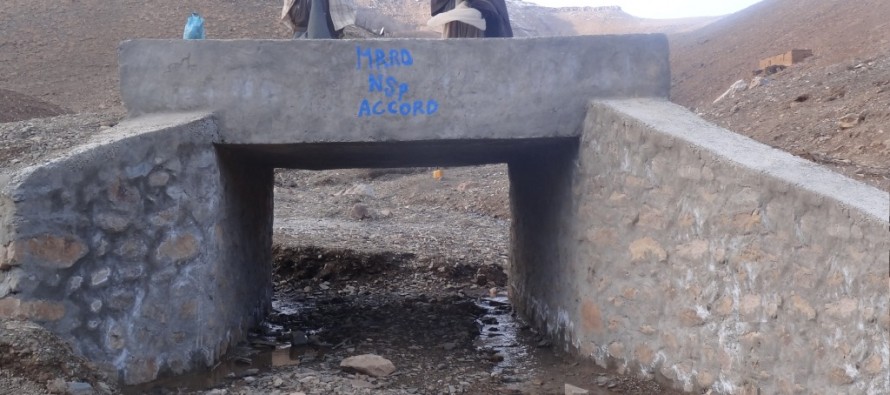 The Ministry of Rural Rehabilitation and Development (MRRD) through its National Solidarity Program (NSP) has completed dozens of  development projects in Sar-e-Pul and Uruzgan provinces.
As many as 19 development projects have been implemented in Gosfandi district of Sar-e-Pul province at a total cost of AFN 20,198,000 with 10% contribution from the local communities.
According to NSP Provincial Manager in the province, these projects include the construction of a couple of school buildings consisted of six class rooms each, 350 meters of boundary walls for three school buildings, two community centers, a 90-meters  long, a 23-meter aqueduct, a 68-meter retaining wall, a culvert and six public baths.
The projects have benefited 3211 families in the district.
In a separate report, the NSP has implemented 9 welfare projects in Shahid Asa, Khas Uruzgan and Gizab districts of Uruzgan provinces.
Benefiting 1765 families in different communities, the projects include a protection wall, culverts, retaining wall, hand pumps and graveling of a road.
The NSP has till date executed 1995 projects in Sar-e-Pul province and 1312 projects in Uruzgan provinces in various sectors including transport, water and sanitation, irrigation, power, livelihood and education. Work on hundreds of other projects is currently in progress in both provinces.
---
---
Related Articles
Afghan Ministry of Agriculture, Irrigation and Livestock (MAIL) has reported that watermelon production has increased by 5% this year. According
President Ashraf Ghani in his address to the 11th National Information Technology Conference in Kabul emphasized on the need for
Close to two million Afghans are reported to be living in Pakistan's Khyber Pakhtunkhwa area and the northwestern parts of Baloochistan. Most