Difficult for Afghan Legislation to Ban Big Budget Wedding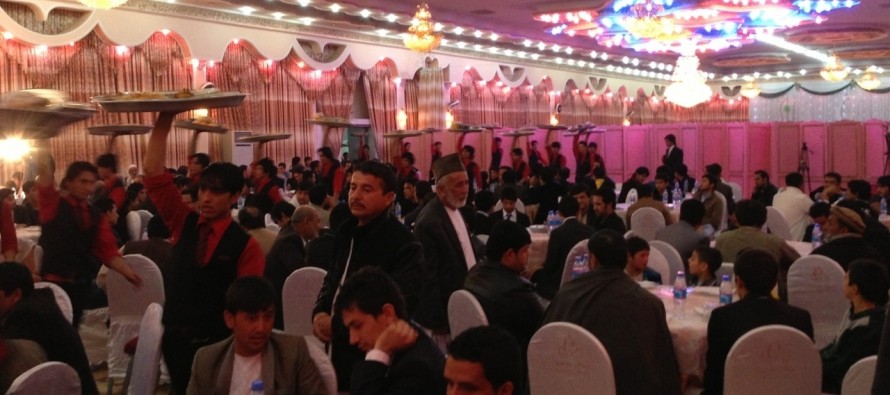 Afghans, whose annual income do not exceed USD 400, have resumed holding up high wedding costs since the fall compare viagra prices of the Taliban in 2011.
As per request of the groom's family who has to bear the burden of high cost of wedding, Afghanistan's Ministry of Justice is in the process of drafting legislation to prevent this.
Advisor to the Ministry Mohammad Qasim Hashimzai said, "Ministry of Justice proposed that through limiting the number of invitees, avoiding noisy music and other improper expenses, one can bring order in a wedding."
He further added that our buying levitra online usa traditions for a wedding ceremony are no longer Islamic. After the bill is passed and approved, its implementation will have its own challenges. He called on the government should somehow play a part in the wedding ceremony by counting the number of guests and judging the expenses buy cheap generic viagra for the wedding.
But, critics say the law is against women's rights and deems to affair in people's private affairs.
Meanwhile, Afghan Parliament also opposes the proposed legislation.
Mr. Hashimzai said that after winning the approval of the opponents, the legislation for avoiding burdensome costs of I'm using them for about a year, 3-4 times daily. I've used some other brands before but they didn't work as well as those do. It supports your immune system from the inside! our Online Canadian Pharmacy is also accredited by the Canadian International Pharmacy Association (CIPA). wedding will be put forward.
---
Related Articles
A number of Kabul Bank personnel pulled from working as a result of delays in their salaries and the displacement
The 2019 "Passage to Prosperity: India – Afghanistan International Trade and Investment Show," supported by the U.S. Agency for International
A committee composed of officials from the Afghan Central Bank, National Council and Afghan Senate torched a sum of 1.5