Disabled protest in front of parliament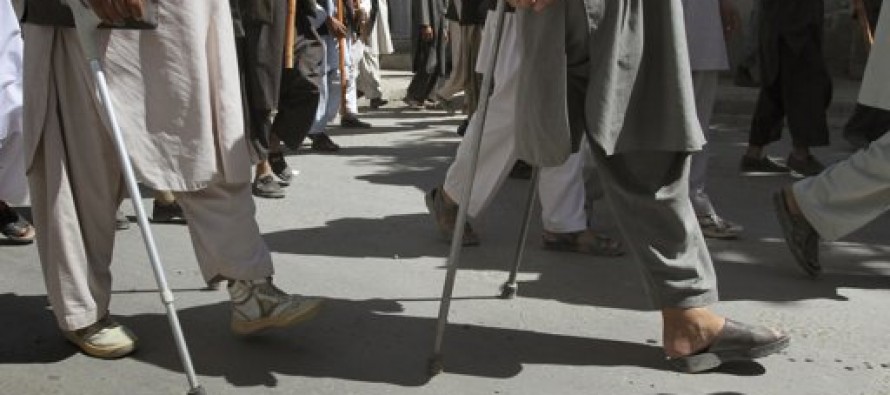 A number of disabled people gathered in front of the parliament, denouncing the government's decision of destroying roadside booths set up by the disabled people.
The protestors demanded that the government should give them permission to reinstall their roadside kiosks, as that is the only source of income to feed their families.
Malik Mohammad Malikzada, one of the protestors, said the government granted the disabled individuals plots of lands in eight police districts of Kabul for them to set up their kiosks.
Subsequently, a number of the kiosks, which encroached on roads, were abolished by the government.
The authorities promised them land for shops in another locality; however, according to the Mr. Malikzada, the government yet has to fulfill its promise.
Mr. Malikzada further added that some of the disabled people have continued running their shops by bribing the police. Those who cannot bribe the police have lost their shops.
"We can't allow them to sell their goods and park hand carts on city roads. It creates traffic problems. The disabled are unwilling to move to the new site, where they say there are no buyers," said Siddique Siddiqui, spokesman to the Ministry of Interior.
---
---
Related Articles
Afghanistan and Tajikistan signed memorandum of understandings to encourage cooperation in the areas of customs, arts, culture, media and investment.
Afghanistan's extractive industries watchdog Integrity Watch Afghanistan (IWA) on Monday recommended the government form a trust fund from the profits
Kazakhstan and Afghanistan signed an agreement where Astana pledged to cooperate with Kabul in various sectors including investment sectors. Foreign