District Chief of Police Hosts Veterinary Outreach in Mya Neshin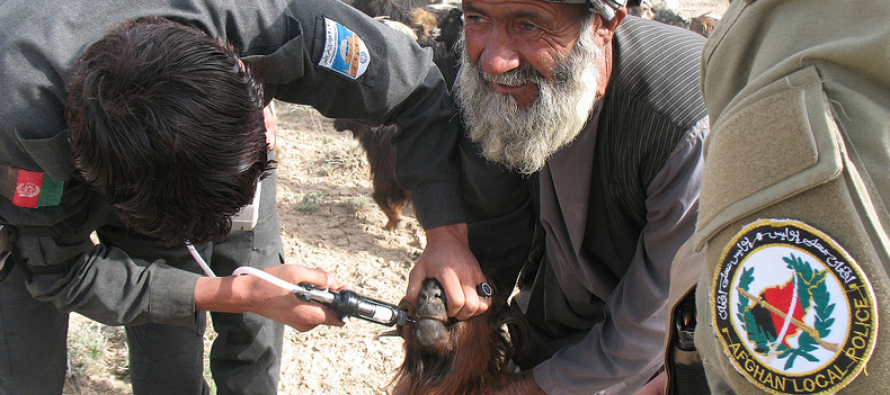 District Chief of Police, Abdul Satar, hosted a four-day veterinary course and clinic in Mya Neshin district, Kandahar province, March 17-20.
Two Pasab district para-veterinarians trained 18 Afghan National Army (ANA), Afghan Uniformed Police (AUP) and Afghan Local Police (ALP) on basic veterinary assessment skills, anatomy and treatment. Para-veterinarians assist veterinarians in the performance of their duties, but the job role varies throughout the world.
Afghan forces learned to administer de-worming medication and vaccinations to prevent common illness including Foot and Mouth Disease. Foot and Mouth Disease, in Afghanistan, severely limits livestock production and prevents the export of animal products to adjacent countries.
Satar, Afghan forces, and the para-veterinarians greeted Mya Neshin livestock owners and helped herd livestock to the examination area.
 "This is the first time that para-veterinarians traveled to our district and it is important for the health of our animals," said Satar. "I am proud to see Afghan para-vets and security forces helping our people."
Approximately 500 animals including sheep, goats, cows, and donkeys received vitamins, vaccinations and general health checkups.
"I really enjoyed learning about the anatomy of the animals and am very happy to be able to help the people of Mya Neshin to treat their animals", said a newly trained ANA medic.
Medications were distributed to the farmers to control the spread of parasites at the conclusion of the event.
 "I am excited that the para-vets have come to Mya Neshin District to help take care of our animals," said a village elder from Khusnay Karez. "Since training was given to the ALP members, I can get new animals treated even after the veterinarians depart."
The training's success demonstrates the Afghan Government's commitment to support governance and development efforts in Mya Neshin district.
---
---
Related Articles
Donald Trump's latest sanctions against Iran took effect in the early morning hours of November 5 as part of Washington's
The United States Agency for International Development (USAID) Capacity Building and Change Management Program II (CBCMP-II) is installing solar power
Afghan Ministry of Public Works announced in a statement the signing of contracts for establishing two railway and road construction