District Governor Leads Major Development Efforts to Ghorak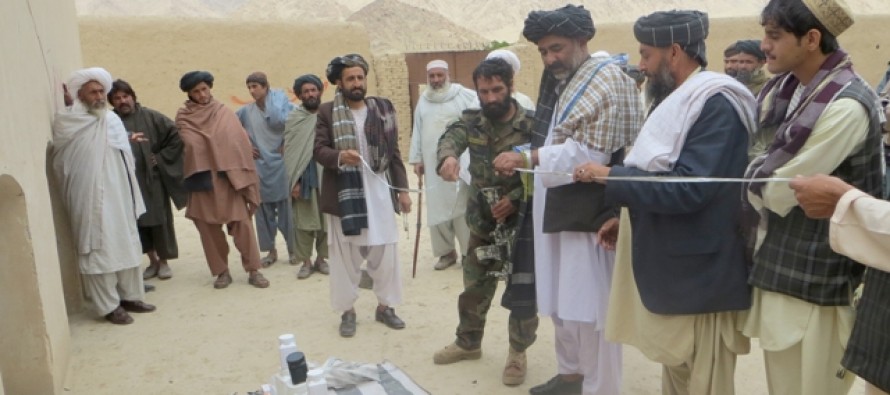 As security increases for the people of Ghorak, District Governor Daru Khan is prioritizing and leading development efforts throughout his district.Since Khan's first day in his district leadership role, he pledged to make significant improvements in healthcare and education.
"We will do work in different areas such as construction and education because this country's people need this work to be done," said Khan on his first day as district governor in December of last year.
District Governor Khan recently presided over the official opening of a new district health clinic, a spacious area where busy doctors can take care of over 80 patients a day.
"Females are especially happy to have access to Afghan doctors," said the district governor. "Before the clinic opened in Ghorak, females did not come out for medical treatment."

The clinic gives Ghorak district villagers immediate access to a medical facility staffed with a trained Afghan community health worker, nurse and pharmacy technician, and stocked with medical supplies provided by the Ministry of Health.
The district governor considered the health of Afghan citizens his top priority and educating the children was next on his priority list.
District Governor Khan recently met with development, education, and agriculture leaders to discuss improvements in the district. At the meeting, the District Education Representative, Haji Abdul Nabi, introduced the other leaders to two school teachers.
The Ministry of Education, encouraged by Khan and Nabi, charged the two teachers with training 10 villagers to instruct the increasing student population in Ghorak's seven schools.
The teachers will also assist the Ministry of Education with distributing 25 boxes of school supplies to the children.
District Governor Khan is currently focusing on future agricultural developments.
---
---
Related Articles
Colombia's Jose Antonio Ocampo has pulled out of the race to be the next president of the World Bank. "It
The Afghan government on Sunday  launched a new policy strategy aimed at spurring growth and job creation by boosting the
Zan TV or 'Women's TV', Afghanistan's first-ever TV channel dedicated to women, begins broadcasting this Sunday. This novelty comes as