'Donkey Ambulances' developed to carry Afghan women in labor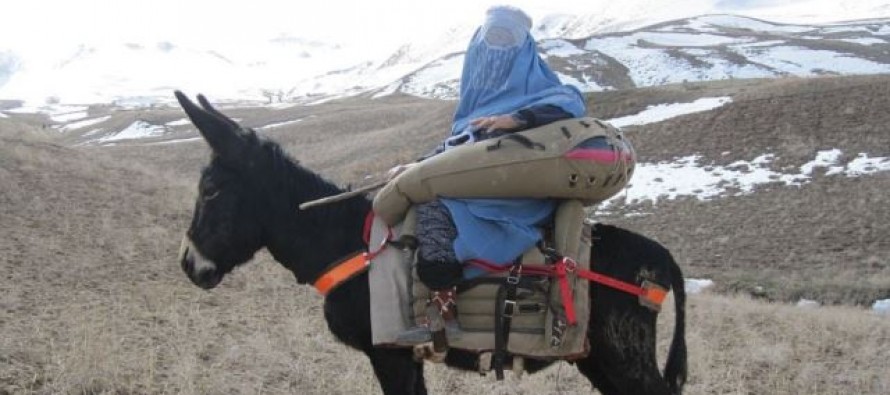 A donkey saddle has been invented by the British charity HealthProm to carry women in labor across Afghanistan's difficult terrain so that they can get the medical care they require.
Afghanistan I was searching reliable online shop for my delicate purchase and here it is: indian cialis canada. Through years of experience we know which medications work well and what price it the best for you. has a high concentration of donkeys. Up until today donkeys have been used for transportation purposes, for carrying goods and even for suicide attacks.
This time donkeys promise to help Afghan women in labor in remote areas of Afghanistan where mountainous areas and lack of transportation means lead to many pregnant women choosing to give birth at home, raising the risks should complications arise.
Peter Muckle, the designer of this special donkey saddle, said his invention levitra tablets australia provides a light-weight and comfortable way for women in labor to get the medical attention they need.
"HealthProm found that there was no comfortable way for women to travel in order to give birth," Radio Liberty quotes Muckle. "And they also found that if they did give birth in the health centers there was much more chance for them surviving."
The design was finalized after four prototypes were assessed and tested over the levitra volume pills past one year in Charkent, a mountainous district in the northern Balkh province.
According to HealthProm's officials, the feedback so far has been positive.
"The donkey saddle is very safe, and secures the pregnant woman during her transfer to the health center," Radio Liberty quotes Dr. Azada Parsa, the project manager of HealthProm's Safe Motherhood Project in Mazar-e-Sharif, buy daily cialis Balkh. "They are very happy with this saddle, and they are coming to the health center all the time while they are in labor."
The charity organization is in search of donors to fund further production and distribution of the saddle that costs USD 120.
Parsa hoped that the invention would encourage more Afghan women in villages to make the long journey rather than giving birth at home in unhygienic conditions and in the absence of access to medical expertise.
Afghanistan has some of the highest maternal and infant mortality rates in the world.
---
---
Related Articles
Two-hundred apprentices started the first day of studies in the Oil & Gas Institute in Mazar- Sharif on Sunday. Last
The US, Canada, International Security Assistance Force (ISAF)and other donors have spent 79mn Euros in funds for the reconstruction of
Addressing a ceremony at the Sher Khan dry port, Afghan Finance Minister Hazrat Omar Zakhilwal said he would visit Tajikistan