Education construction projects begin in Baghlan with German financing and support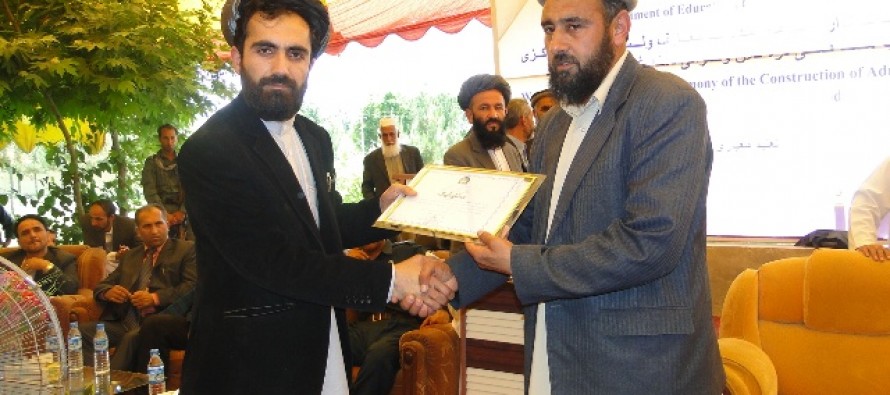 Two construction projects were officially started as part of the Afghan-German Cooperation program in partnership with the Baghlan Department of Education on Sunday.
Assadullah Shahbaz, Director of the Provincial Council in Baghlan, and Abdullqader Rasoli, from the Department of Education in Baghlan, officially opened the construction site for two new administrative buildings that will house the Education Management Unit in the district of Baghlan Markazi.
The ceremony also marked the start of construction works for a new secondary school building in Dara-e-Kalan village, Dahana-e-Ghori district.
The Education Management Unit compound will consist of two single-storey buildings, including conference rooms and four offices, office equipment and accessories. The new buildings will bring the Department of Education in closer contact with the public with improved service delivery. The Dara-e-Kalan Secondary School will offer proper education facilities for 514 students (230 male and 284 female students) from eight rural villages in the district. Integrated in the district and provincial level school system, the one-floor construction will house 8 classrooms, 3 offices for teachers and school administration and a library. Both construction projects will be officially handed over to the Department of Education on November 17th 2014.
Financing for the construction projects came from the German Federal Ministry for Economic Cooperation and Development (BMZ); technical and further financial support came from the Regional Capacity Development Fund (RCDF) in Baghlan. Both projects were approved by the Provincial Development Committee as part of the Provincial Development Plan in Baghlan.
As part of the Afghan-German Cooperation strategy, the RCDF is implemented by Deutsche Gesellschaft für Internationale Zusammenarbeit (GIZ) GmbH. The RCDF provides supports for its Afghan partners' development priorities both on a provincial and a district level in six of Afghanistan's Northern provinces. At the same time, the RCDF provides training and coaching programs for civil servants. With its broad range of activities, the RCDF aims to increase Afghan ownership of the development process, strengthen Afghan state institutions on the sub-national level and promote transparency and inclusiveness.
---
---
Related Articles
The International Trade Administration's Peace through Commerce medal has recognized eight individuals and organizations that have played a crucial and
(Pajhwok Afghan News Weekly Price Report) The prices of liquefied gas jumped and gold fell, but rates of other items
Afghanistan and Iran have agreed to form a joint trade committee to further boost bilateral economic and trade ties. Afghan