Efficient Water Use Reduces Costs and Increases Agricultural Cultivation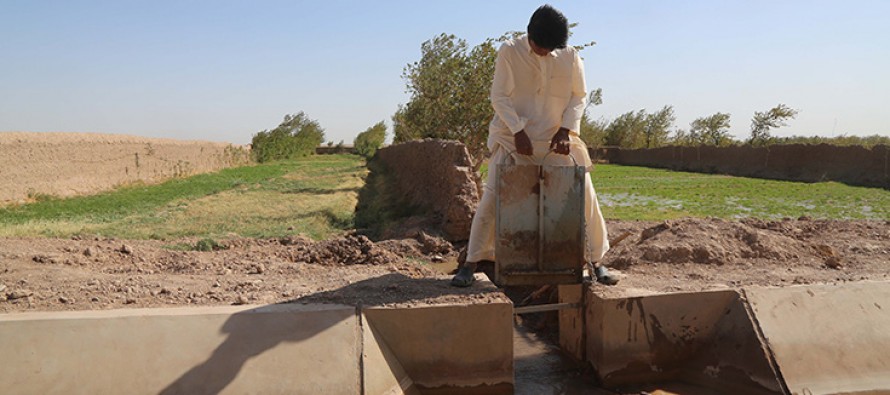 Farmer Abdul Satar is about to pull up one of the metal hatches of the cemented canal to irrigate his own and his neighbors' farmlands. The hatch is part of a lengthy canal system that has 160 openings of this type.
A resident of Deh Sorkh village of Zinda Jan district of Herat Province, Abdul Satar, 30, recalls the hardship they went through before the surface of the canal was cemented and the openings developed. They faced numerous problems irrigating their lands back in those days.
"We have 6 hectares of land and the irrigation used to take a lot of our time when the canal system was not rehabilitated because we had to spend three to four months with other landlords clearing up the canal system," he recounts. "Now it does not take us more than 10 days. This saves us time to take care of our livestock as well."
The 6-kilometer (km) long canal system irrigates 210 hectares of land. So far, at least 3 km of the canal surface has been cemented and improved with support from the Ministry of Agriculture, Irrigation and Livestock's On-Farm Water Management Project (OFWMP). With $25 million grant support from the Afghanistan Reconstruction Trust Fund (ARTF), OFWMP aims to support on-farm water management investments in five regions (Central, Eastern, Southwest, Northeast, Northern), covering a total of 10,000 hectares. The project improves agricultural productivity in project areas by enhancing the efficiency of water use.
According to Hamid Qurbani, OFWMP monitoring and evaluation specialist for the western region of Herat Province, canal systems waste 35 percent to 40 percent of water when not cemented. In addition, the cleaning and maintenance of the canal was undertaken by around 1,500 persons employed by farm owners when the canal was not cemented, whereas, now the same job is done by 5 to 10 persons, says Hamid
Hamid estimates that the cemented canal systems along with the training sessions delivered to farmers on agriculture and irrigation techniques will increase farmland utilization by 15 percent and the harvest size by 10 percent.
Cleaning costs fall
Afghan farmers have historically suffered from lack of water. The main causes include low standard water resources and unprofessional irrigation methods.
Haji Abdul Zahir, 50, the local leader in Deh Sorkh village, says they had to refrain from planting a big portion of their farmland prior to rehabilitation of the water canal system because of the massive water loss, which resulted in insufficient water to irrigate the entire farmlands.
"I now plant 40 hectares instead of 20 hectares of land. Our planting doubled with the increase in the irrigation water," says Haji Zahir. The cost of cleaning and maintaining the canal system has also reduced significantly according to Haji Zahir. The residents of his community now spend less than $500 instead of $5,000 per annum to clean and maintain the canal system.
Gul Ahmad, 45, a farm owner who has 50 hectares of land, agrees that the cleaning cost has come down considerably. "I personally had to spend 200 to 300 Afghanis (about $4 to $5) to hire workers. Everyone was obliged to hire workers based on the size of their land. We would start the cleaning as early as October each year and would continue for three to four months," he recalls. "Sometimes the cost would be so high that farmers and farm owners would personally participate in the work."
Water access in five minutes
Prior to the implementation of OFWMP in the village, famers had to wait for hours for water to arrive at their farmlands because of the rough canal surface. Additionally, absorption of water into the earth as well as the uneven canal surface also contributed to the delay of water to the farmlands.
"In the past when it would be our turn for irrigation, water would not arrive at our farmland even after three hours. Then as soon as we would start to irrigate, our irrigation time limit would be exhausted. Now we get water in five minutes," says Gul Ahmad. "All we need to do is pull up the metal hatch and the water flows to our farmland, which we then share according to our turns."
Two out of the five canal systems undertaken by OFWMP are completed and another two are being rehabilitated at the moment, while Survey and design of the fifth one is still going on. Officials at OFWMP say they are targeting 28 canal systems in Herat Province, of which 14 canal systems have been completed.
For more information please visit the following link:
http://www.worldbank.org/en/news/feature/2015/02/26/effecient-water-use-reduces-costs-increases-agricultural-cultivation
---
---
Related Articles
Finance Minister Hazrat Omar Zakhilwal and Da Afghanistan Breshna Sherkat (DABS) CEO Abdul Razique Samadi signed the grant agreement with
The Minister of Trade and Industry of Afghanistan, during a meeting with the Minister of Trade and Convergence of Kazakhstan,
A number of Afghan businessmen participated in the international exhibition of Halal Food in Moscow. This was the first ever