Efforts on to conserve ground water in Kabul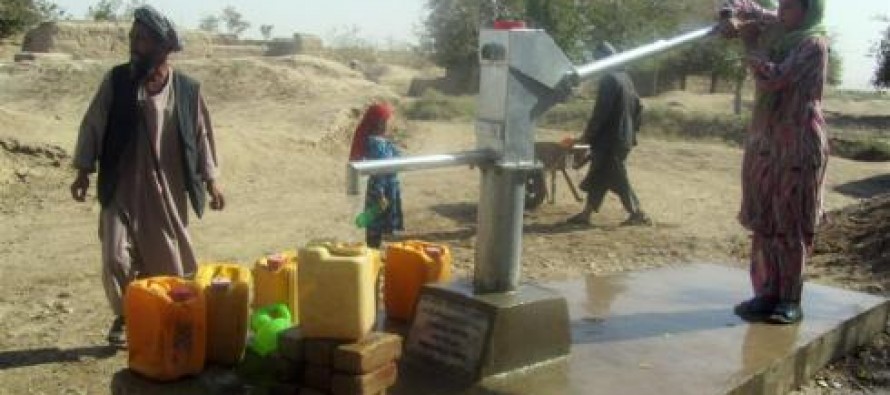 Pajhwok Afghan News-Following the prediction of a depleted ground water level in Kabul due to the climate change in 2017, the government has launched efforts to deal with the possible crisis, a senior official said on Monday."The growing populations, seasonal droughts and over pumping are some of the factors that contribute to the rapidly plummeting underground water resources in Kabul," said Deputy Energy and Water Minister Shujaudin Ziaye.
The ground water resources decreased from 44 million cubic metre to 31 million in a decade. "We have ground water for one million people, but the level is in great depletion because four million people in Kabul pump water from dwells dug at homes," Ziaye said.
He said there were four ground water aquifers each in bowl-shaped formation located in Afshar, Pul-i-Charkhi, Allaudin and Rahmatabad areas.
The deputy minister warned ground water could become undrinkable over next three years if unplanned constructions continued, adding his ministry planned to initiate short and long term projects aimed at protecting the available ground water resources from contamination.
The proposed schemes included the construction of water dams on rivers of Maidan Wardak and Panjsher provinces, according to Ziaye, who hoped the projects would help preserve potable water for three million people.
The dam, a World Bank-funded project, on a river in Maidan Wardak's river in Shahtot area of Kabul is estimated to cost 400 million afghanis and the dam in Panjshir's Jabalus Saraj district $ 500 million, he added.
The schemes would produce 120 megawatts of electricity, irrigate 60,000 hectares of land besides finding access to potable water for four million people, Ziaye said, stressing the need for an end to illegal townships and an overhauled sewerage system to prevent ground water from getting polluted.
Afghanistan's water supply and canalisation chief Dad Mohammad Bahir said they planned to extend potable water to Kabul from outside in pipes, a project that requires $ 170 million.
---
Related Articles
Eastern Nuristan province is suffering from ruthless deforestation, with timber being smuggled to neighboring Pakistan on camels and mules. Areas
The Bilateral Security Agreement (BSA) is going to be signed on Tuesday between Afghanistan and the US government. The BSA
Exports of Afghan fresh fruits have doubled from last year, said officials of the Ministry of Agriculture and Livestock. Afghan