Eight disaster prevention projects started in Badakhshan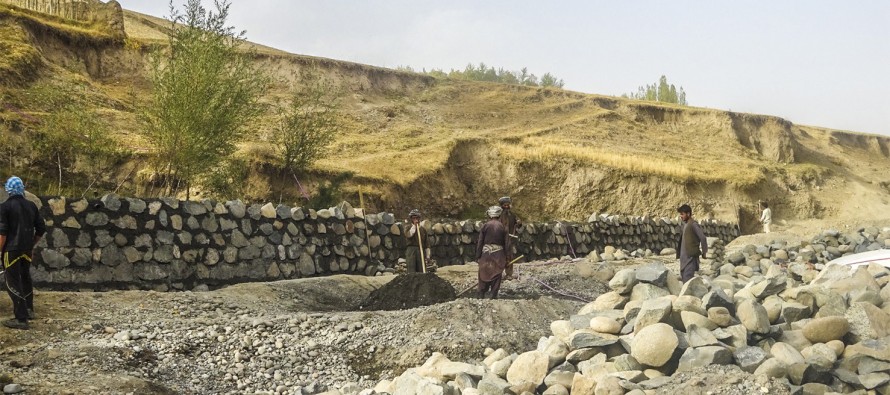 Eight disaster prevention projects have been launched in remote districts of Shahri Buzurg, Shukai, Kofab and Khowhan of Badakhshan at a total cost of 16mn AFN.
The projects include protection walls, irrigation canals and forestation measure which will help protect the villagers and their land, orchards and houses from floods and other natural disasters.
Chosen and managed by the Community Development Councils (CDCs), the eight projects are funded by Germany through the Badakhshan Natural Disaster Prevention (BNDP) program.
"One of the major challenges our communities are facing is flooding. The villages lack forests and proper protection walls to protect their lands, and they do not have irrigation canals to water their farmland properly. Every year, residents in our villages lose valuable farming income due to floods. Until a few centuries ago, evergreen forests covered a wide area of our province. Nowadays, illegal logging and overgrazing are the main factors in the decline and disappearance of forests," said District governor, Ghafran Zaki Khowahan.
It is estimated that if the deforestation continues at its present rate, all forests of Afghanistan will disappear in three decades.
The head of the Kofab District Development Assembly (DDA), Mabodullah, said "Another problem of the people here is that during floods several villages are cut off from the market, health centers and schools, because the roads are blocked.
Addressing the challenges of major natural disasters in Badakhshan province including flooding, avalanches and earthquakes, Germany and Afghanistan agreed to run the Badakhshan Natural Disaster Prevention (BNDP) program in four districts. The districts were chosen by their vulnerability based on a newly developed risk map which identifies the most exposed places in Badakhshan. Based on these findings, suitable prevention measures are designed including small infrastructure but also capacity development projects.
BNDP is financed by the German Federal Ministry for Economic Cooperation and Development (BMZ) and implemented by the Deutsche Gesellschaft für Internationale Zusammenarbeit (GIZ) GmbH.
---
---
Related Articles
ARGHISTAN DISTRICT, Afghanistan – A ribbon cutting ceremony was held to reopen a road in Arghistan district, Kandahar province, Feb 6.
The second exhibition of Afghan-Turk with the participation of 50 companies took place today, 03 Apr 2012, in Kabul. The
Ariana Afghan Airlines officials claim to have been moving towards self-sufficiency despite having faced millions of dollars in losses in