Engineers in northern Afghanistan gain new skills for complex civil construction projects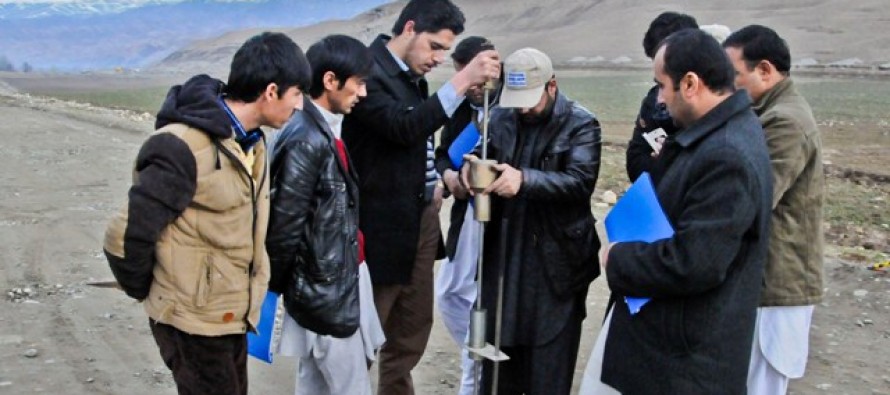 Ten civil engineers from various government line departments in Badakhshan province completed two days of "Dynamic Cone Penetrometer" training in the provincial capital Faizabad.
The course was part of training program funded by the German Government for more than 40 engineers from line departments in the five northern Afghan provinces Badakhshan, Baghlan, Balkh, Kunduz and Takhar.
Over the past two to three weeks, the engineers gained new skills for DCP operations and maintenance (usage, maintenance and data analysis) to help improve the quality of work in construction projects.
The training workshops were held in the five provinces between 5th and 17th January 2015, with technical and financial assistance from Germany. The training was designed to help the technical government departments manage public infrastructure projects effectively, efficiently and within budget and time constraints. The engineers taking part in the training represented the Department of Rural Rehabilitation and Development (DRRD), the provincial Education Department and the Department of Public Works (DoPW).
The "Dynamic Cone Penetrometer" (DCP) is a basic mechanical tool for surveying underground and sub-structures of roads and tests if the subsoil underneath roads is compact enough to bear the expected loads. The training covered therefore three modules. The engineers learned what soil strength is, how to design and write a measurement protocol, how to analyse the DCP data. Afterwards they practiced DCP measurements for a full day on a construction site, and looked at how to cope with measurement errors. Participants learnt to perform these operations efficiently and effectively, and in doing so improve the quality of work in civil road construction projects. In addition, a full Dynamic Cone Penetrometer set will soon be provided each of the five provinces, allowing the engineers to improve the design and construction of road and building foundations.
The trainings were part of a joint capacity development program by the Regional Capacity Development Fund (RCDF) and the Regional Infrastructure Development Fund (RIDF), both financed by the German Federal Ministry for Economic Cooperation and Development (BMZ). As part of German cooperation with Afghanistan, the two regional funds are implemented in the provinces Badakhshan, Baghlan, Balkh, Kunduz, Takhar (RCDF/RIDF) and Samangan (RCDF). The RCDF is run and administered by the Deutsche Gesellschaft für Internationale Zusammenarbeit (GIZ) and the RIDF is run by KfW Entwicklungsbank (German Development Bank). Both aim to strengthen the capacities and infrastructure of governmental authorities in provinces and districts in northern Afghanistan.
---
---
Related Articles
In the last 30 days, over $70 million USD in construction projects for Afghanistan have been awarded to companies. This
According to Pakistan's Customs Department, the import of fresh fruits from Afghanistan and Pakistan via Torkham and Kurram Agency has
Pakistan witnessed its worst fuel shortage in memory over the weekend, with about 95% of gas stations running out of