Engineers in northern Afghanistan improve capabilities for civil construction projects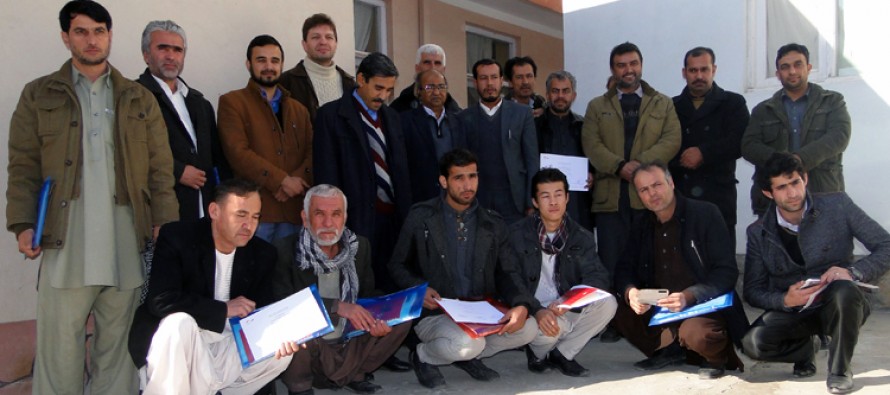 Over the past ten days, more than 125 engineers from various line departments in the provinces Badakhshan, Baghlan, Balkh, Kunduz and Takhar successfully took part in "Measuring & Scaling" training workshops. The aim of the five four-day workshops was to help participants improve the quality of surveying in public works.
The workshops were held in the five provinces between 20th and 30th December 2014, with the technical and financial assistance of the German government. The training was designed to help various government departments manage public infrastructure projects effectively, efficiently and within budget and time constraints.
The authorities whose engineers took part in the training included the Department of Rural Rehabilitation and Development (DRRD), the provincial education department, the Department of Public Works (DoPW), the electricity department, Da Afghanistan Breshna Sherkat (DABS), the water supply department (WSD) and river basin departments.
In Pul-e-Khumri in Baghlan, the last workshop came to a close 30th December 2014, with 25 civil engineers from various departments and municipalities successfully completing the training. One of the main objectives was to refresh engineers' basic knowledge and skills. The workshops also aimed to enhance engineers' capabilities in the area of planning, implementation and supervision of public construction projects.
The training covered six modules. The engineers learnt what a survey is, how to scale from the ground to paper drawings as well as the basics of measurement and trigonometry. In the field of measurements, participants practiced distance measurements and looked at how to cope with measurement errors and proper constructions measurements.
The courses were part of a joint program by the Regional Capacity Development Fund (RCDF) and the Regional Infrastructure Development Fund (RIDF), both financed by the German Federal Ministry for Economic Cooperation and Development (BMZ). As part of German cooperation with Afghanistan, the two regional funds are implemented in the provinces Badakhshan, Baghlan, Balkh, Kunduz, Takhar (RCDF/RIDF) and Samangan (RCDF). The RCDF is run and administered by the Deutsche Gesellschaft für Internationale Zusammenarbeit (GIZ) and the RIDF is run administered by KfW Entwicklungsbank (German Development Bank). Both aim to strengthen the capacities and infrastructure of governmental authorities in provinces and districts in northern Afghanistan.
---
---
Related Articles
Eastern Nuristan province is suffering from ruthless deforestation, with timber being smuggled to neighboring Pakistan on camels and mules. Areas
"A Letter to the President", Afghan film directed by Roya Sadat, won the best Screenplay Award at the 9th SAARC
Iranian President Hassan Rouhani inaugurated the first phase of the Chabahar port on the Gulf of Oman on Sunday. Situated