Engineers in northern Afghanistan improve circuit designs for large-scale power projects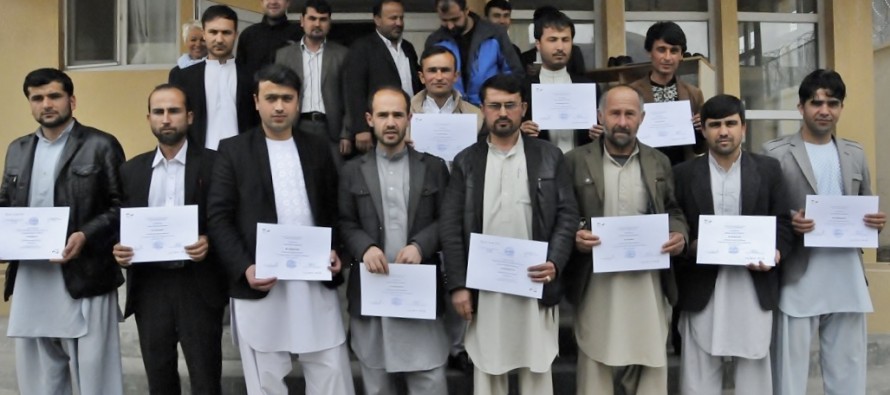 Since the beginning of March, more than 125 electrical engineers from various line departments in the provinces Badakhshan, Baghlan, Balkh, Kunduz, Samangan and Takhar successfully took part in "Single Line Diagram Drawing" training workshops. The aim of the workshops was to help participants improve the quality of electrical line design and drawing.
One of the main objectives was to refresh engineers' basic knowledge of single line diagrams, which are used in electrical engineering to illustrate and represent circuits and mechanisms for three-phase power systems. These are commonly needed for large-scale power projects. The participants learnt how to draw and design technical and practical power circuits. In addition, the vital importance of safety measures and regulations was discussed, to help provide a safer working environment for the electrical engineers.
The five four-day workshops were held between 1st and 26th March, with technical and financial assistance from the German government at a cost of more than AFN 1,120,000. The training was aimed at engineers working for the Afghan power supply company, Da Afghanistan Breshna Sherkat, and for the departments of Rural Rehabilita-tion and Development, Education, Public Works as well as Energy and Water, so they can read, design, draw and apply single line diagrams for power supply systems. The last workshops came to a close on 26th March 2015, in Faizabad and Mazar-e Sharif simultaneously. 55 electrical engineers from various government departments in Badakhshan, Balkh and Samangan successfully completed the last two trainings in Faizabad and Mazar-e Sharif.
The courses were part of a joint programme by the Regional Capacity Development (RCD) and the Regional Infrastructure Development Fund (RIDF), both financed by the German Federal Ministry for Economic Cooperation and Development (BMZ). As part of German cooperation with Afghanistan, the two regional funds are being implemented in the provinces Badakhshan, Baghlan, Balkh, Kunduz, Takhar (RCD/RIDF) and Samangan (RCD). The RCD is run and administered by the Deutsche Gesellschaft für Internationale Zusammenarbeit (GIZ) and the RIDF is run by KfW Entwicklungsbank (German Development Bank). Both programmes aim at strengthening the capacities and infrastructure of governmental authorities in provinces and districts in northern Afghanistan.
---
---
Related Articles
The Afghan Ministry of Agriculture has trained 15 women in Samangan province in cultivation and cooking techniques of mushrooms. The
Afghan Ministry of Public Works announced in a statement the signing of contracts for establishing two railway and road construction
Afghanistan annually exports four different types of raisins to different continents  around the world including Europe, the Americas, and other