Enrollment of Afghan apprentices in technical and vocational institutes in Mazar and Kabul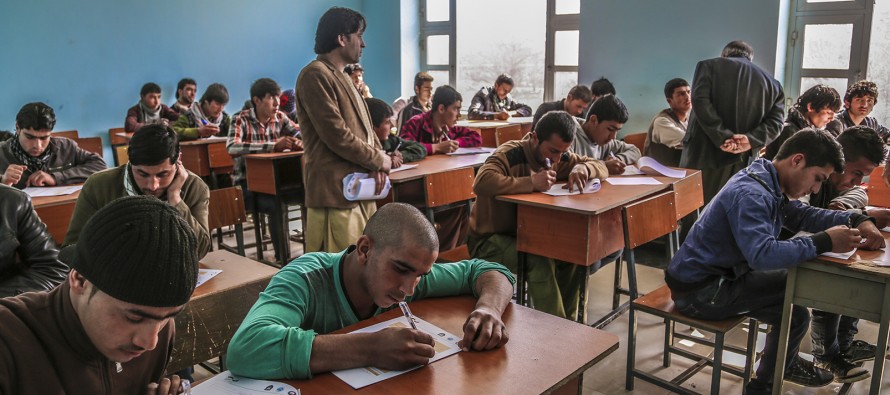 Two-hundred apprentices started the first day of studies in the Oil & Gas Institute in Mazar- Sharif on Sunday.
Last Sunday, 850 further apprentices or shagerdis were officially enrolled in five institutes in Kabul. The 1,050 students around the country were accepted to the vocational institutes after successfully passing the entry exams on March 19th 2015. More than 950 apprentices in Kabul and over 300 in Mazar-e Sharif from Afghanistan's Ostad-Shagerdi or traditional apprenticeship system took the entry test for admissions to five pilot institutes.
A celebration in this regard was held in Mazar-e Sharif on Sunday which marked a significant milestone in the Ostad-Shagerdi agreement, which was signed between the Ministry of Education (MoE), the Federation of Afghan Crafts and Trade (FACT) and Germany's TVET program November 2014. The agreement is set to modernize Afghanistan's apprenticeship system by offering apprentices from four informal economic priority sectors an academic education together with their practical experience in the businesses or companies. The sectors or subjects include motor vehicle mechanics, carpentry, electronics and metal work.
Speaking at the inauguration ceremony in Kabul, Mohammad Sarwar Azizi, acting deputy for Deputy Ministry of TVET of Minister of Education, said, "Today we are witnessing that these apprentices have been given the opportunity of enter the gates of TVET institutes, so they can deepen the knowledge and understanding of their jobs. This has been missing in their practical training."
For the apprentices now enlisted in the TVET institutes, the Ostad-Shagerdi system will also offer further opportunities. After completion of the four years of training in the programme, the apprentices will be awarded a 9th grade certificate by the Ministry of Education. Those interested in pursuing further academic education can continue up to 14th grade (institute level) and even further to university level.
Germany's supports in the adoption of apprentices in the TVET institutes includes renovation work for workshops and classrooms, furniture, tools, equipment, apprenticeship training packages (consisting of a school bag, notebooks, pens, pencils, rulers etc.), and teaching and learning materials. The TVET programme funded by the German government also offers teaching and assessment training for teachers and masters. A new curriculum has also been developed for the students based on high technical and vocational education standards.
In close cooperation with the Afghan Ministry of Education (MoE) and the Federation of Afghanistan Craft Persons and Traders (FACT), the TVET programme financed by the German Government promotes technical and vocational education and training in Afghanistan aimed at establishing a sustainable formal vocational school system. The goal is to help as many young Afghans as possible acquire skills that will improve their chances of finding a job and earning a regular and decent income for their families.
---
---
Related Articles
Decisive government actions are necessary to ensure swift and extensive vaccine rollout, protect the most vulnerable households and otherwise viable
According to reports, Afghanistan's economic growth in 1391 was lower than previous year. Afghanistan's balance of trade stood at -95%.
President Hamid Karzai has welcomed the decision of the Organization of Islamic Cooperation (OIC) on the establishment of International Islamic