Entrepreneurs in Kabul gather to practice pitching their companies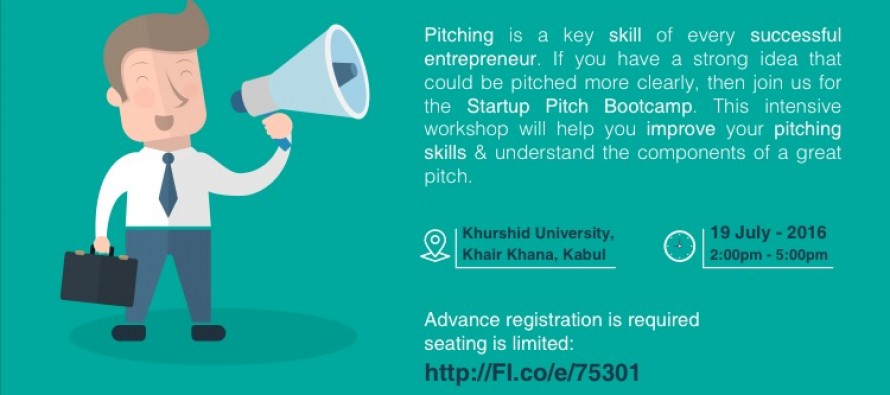 Founder Institute – Kabul Chapter is hosting a Startup Pitch Bootcamp for Afghan entrepreneurs, innovators, and programmers on Tuesday July 19, with around 30 participants pitching their businesses in front of a panel of seasoned mentors who will give them feedback and support, to make great pitches.
At this event, Afghans will get the chance to learn how to refine and then pitch a startup in order to generate interest in their service or product, gain clients, attract partners or investors, and compel listeners to want to know more about they offer. Company founders will benefit from the advice of top local CEOs serving as mentors at the event: Sanzar Kakar, CEO of Afghanistan Holding Group, which provides integrated and turnkey professional business services in Afghanistan, including financial, research, legal and technology services. AHG now employs more than 180 full-time highly qualified Afghans, calling on an additional pool of 800 short term consultants across all 34 provinces, and operates from offices in Kabul, Mazar, Herat, Kandahar and Jalalabad.
"Unless you can eloquently pitch your ideas to others – you will never be able to motivate employees, inspire investors, engage vendors, attract customers, convince family or friends… you may not even be able to move your own heart," explains Sanzar Kakar.
The event will also feature mentor Fahim Didar, founder and Executive Director of Aghaez Business Consulting Company, as well the Kabul City Chapter Director for Startup Grind. Mr. Didar's expertise combines both business and information technology, and he has been involved in setting up number of startups companies and the launch of several international brands in Afghanistan.
The event is free to attend but advance registration is required as seating is limited: http://FI.co/e/75301. The event is aimed at men and women thinking about starting a business or who already have a great business idea, or business information, who could use help with learning how to communicate what is unique and attractive about their business. The event is also a good opportunity to connect with other entrepreneurs, some of whom may become business partners.
Startup Pitch Bootcamp is part of a series of events in Kabul where entrepreneurs learn skills to help transform a business idea into a profitable company, and start learning the basics of starting a new venture. More information about Founder Institute is found below.
---
---
Related Articles
The governments of Afghanistan and Turkmenistan signed 7 agreements concerning bilateral cooperation in various fields at the end of a
Afghanistan has been elected as a member of the United Nations Economic and Social Council (ECOSOC) for three consecutive years
The State Secretary of the German Federal Ministry for Economic Cooperation and Development (BMZ), Martin Jaeger, together with Dr Mohammad