European Union promises long term economic assistance with Afghanistan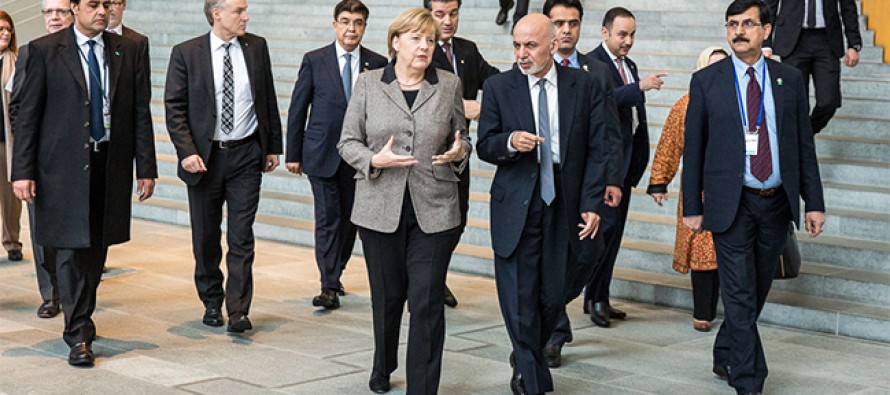 President Ashraf Ghani following his visit to Italy, Germany and Sweden announced that the European Union was committed to a long term economic assistance with Afghanistan.
"The European Union is committed to Afghanistan's economic cooperation for the next decade in diverse fields and a framework in this regard will be signed later," said President Ghani in a press conference.
Regarding the climate change conference in Paris, President Ghani said Afghanistan was among the countries affected by the climate change.
He added that the conference in France agreed to assist nations hit by natural disaster and have promised to set up USD 100mn fund to help developing countries.
"This paves the ground for us to attract resources based on the special strategy we have in completion with others to develop Afghanistan's infrastructure," said Ghani.
He said Afghanistan could become a major energy exporter to Pakistan and India with a capacity of producing 316,000 megawatts of hydropower.
The president said Sweden and Afghanistan reached an agreement on a 1bn Euros aid to be sent during the transformation decade.
About his trip to Germany, he said the German government had pledged to provide 350mn Euros for Afghanistan's reconstruction in 2016. President Ghani added that Germany was ready to increase its forces in Afghanistan. Germany would also cooperate with China's 10,000 apartments project in Kabul in partnership with Sweden.
President Ghani also rolled out the red carpet for German investors and agreed with them that the Afghan government would pave the ground for their investments.
Germany would spend 250 million Euros through the Afghan Ministry of Rural Development and 180 million Euros through the Ministry of Foreign Affairs on good governance, stable economic development, energy, clean drinking water, health, basic education and vocation training programmes until 2020 under a memorandum of understanding between the two countries, according to a statement from presidential palace.
In addition, Germany would assist Afghanistan in reinforcing its revenue collection system, electricity, energy and professional energy programs.
From his trip to Italy he said the Italian government had earmarked 29mn Euros for completion of Herat's international airport. Italy would also fund construction of Herat City-Chichsti Sharif road and connecting western Herat province with Iran's railways network.
The two nations reached a memorandum of understanding on cooperation in areas of culture, science and technology.
President Ghani told the press conference that Afghanistan had reached its annual revenue collection target for the first time with two weeks remaining in the outgoing fiscal year.
" Afghanistan has so far collected 112 billion AFN revenue while the collection of 114.2 billion AFN has been endorsed with the International Monetary Fund (IMF)," said Ghani.
---
Related Articles
Minister of Information Technology and Telecommunication Eng. Amirzai Sangin announced on Wednesday that the issuance of the first ever computerized
President Ashraf Ghani in his address to the 11th National Information Technology Conference in Kabul emphasized on the need for
The USD 10.8 billion worth of iron ore deal between Afghan government and a consortium of Indian companies led by