Expanding Kabul's drinking water supply to reach 3,800 new households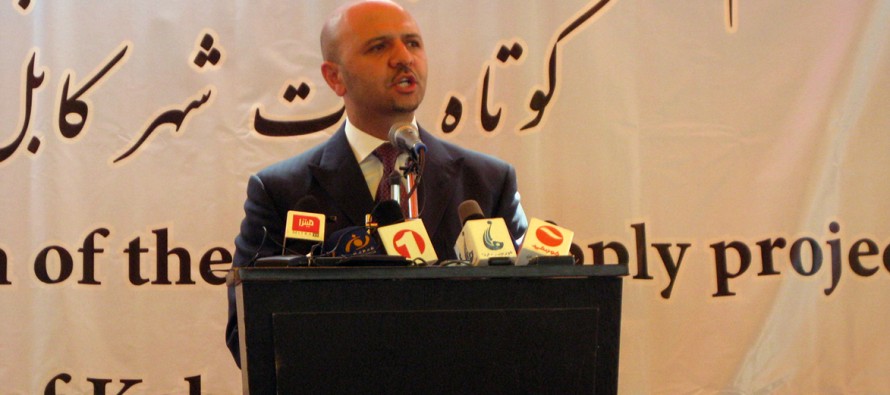 A newly established infrastructure connects 3,800 new households to Kabul's water supply.
Together with 32 km of principle mains, 80 km of local mains and the previously completed works under the program, the newly established supply infrastructure contributes to improving the quality and quantity of potable water in Kabul city. In total an approximate 46,000 inhabitants now benefit from an improved access to clean drinking water from taps. The installation of new connections and mains helps cover basic needs and reduces water borne diseases.
During the inauguration ceremony, the Minister of Urban Development Affairs (MUDA),  Sayed Sadaat Mansoor Naderi, said: "The inauguration of the water project is a major step towards providing clean and potable water for Kabul citizens".
The Director General of the Afghan Urban Water Supply and Sewerage Cooperation (AUWSSC),  Hamidullah Yellani, said: "We will strive to utilize and preserve the investment made on this water project by the German government." Apart from the requirement to maintain the drinking water supply, consumption patterns need to change as well. Kabul's Acting Mayor,  Mohammad Akrami, urged the capital's inhabitants to save and consume water efficiently. . Irfanullah Irfani represented the Parliament at the inauguration ceremony.
The installation works represent the last phase of the short-term program for Extension of Kabul's Water Supply System II funded by the German government through KfW Development Bank. The total cost of this construction and installation phase amounted to about AFN1.4 billion. The programme follows on from three previously completed construction contracts to bring water to the population of the capital.
The follow-up program Extension of Kabul's Water Supply System III has started in April 2016 to expand the infrastructure for the drinking water needs of the Kabul's population. From the new project phase approximately 135,000 inhabitants of Kabul will benefit.
---
---
Related Articles
A group of Indian investors are headed for Afghanistan to explore investment opportunities mainly in the textiles, mines, health services
The World Trade Organization (WTO), consisting of 160 members, is in discussions with 10 countries to become members, including Kazakhstan
Kazakhstan's Ministry of Agriculture announces that it intends to increase grain and flour exports to Afghanistan this year. According to