Expert on Judicial Transparency and Former German Constitutional Court Judge visits Afghanistan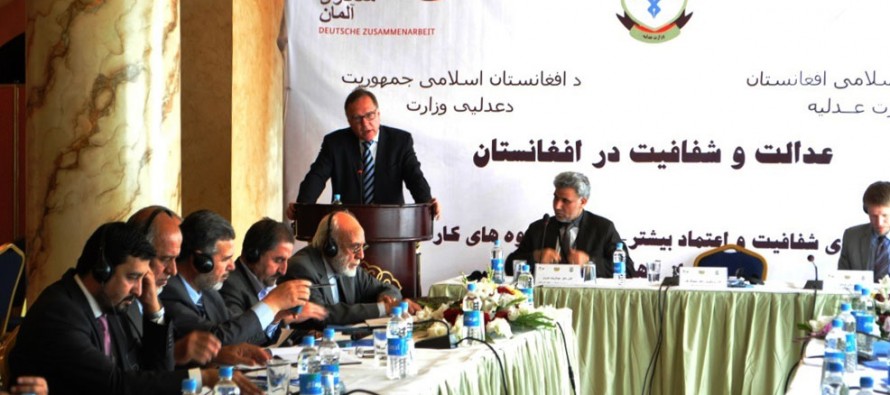 Professor Dr. Rudolf Mellinghoff, president of the Federal Finance Court and former judge of the German Constitutional Court, visited Kabul and Mazar-e Sharif last week. From 19th to 25th May Dr. Mellinghoff visited Afghanistan to meet and exchange ideas with representatives of the Afghan Ministry of Justice, members of the judiciary and professionals in the legal sector in Kabul. He also took part in a conference at the University of Balkh.
Dr. Mellinghoff served as a supreme judge at the German Constitutional Court for ten years before being appointed president of the German Federal Finance Court in 2011. Mr. Mellinghoff is an internationally recognized expert on transparency in the judiciary. He is a member of the Judicial Integrity Group and co-author of the "Bangalore Principles" – the international standards for judicial integrity.
In Kabul he, Dr. Mellinghoff was the honorary guest speaker at a seminar of the Ministry of Justice on the topic of justice and transparency in Afghanistan. He was also invited to head a workshop of the Afghan Independent Bar Association on the role of defense lawyers in furthering justice and transparency. He met with the High Commission for the Implementation of the Constitution.
In Mazar-e Sharif, Dr. Mellinghoff spoke at a conference at the University of Balkh on the importance of legal science in developing a just and harmonious society. The workshops and conferences with over 200 participants triggered lively debates and an exchange of ideas with the foreign expert and amongst the Afghan colleagues themselves.
A transparent legal system was identified as the key factor in winning the trust of the people and strengthening the formal justice system in the country. Future measures against corruption were proposed and Professor Mellinghoff shared best-practices examples from other countries.
As part of the Afghan-German Cooperation and on behalf of the German Federal Ministry for Economic Cooperation and Development (BMZ) the Deutsche Gesellschaft für Internationale Zusammenarbeit (GIZ) GmbH has been assisting the Afghan government in implementing the project "Strengthening the Rule of Law in Afghanistan" since 2003. Its goal is to establish a functioning legal system based on the Afghan constitution.
Besides the Ministry of Justice and the Afghan Independent Bar Association other partners include the Attorney General's Office, the Ministry of Women's Affairs and the Ministry of Higher Education.
---
---
Related Articles
The protestors in Chaghcharan, capital of the western Ghor province, have halted their 5-day protest, after the government promised to
The Afghan Islamic Press reports inauguration of a 10-bed maternity hospital in Kandahar City. The Hospital, called Aino Hospital, would
I've had many interviews over the course of my career, but one is particularly memorable because of the interview question