Farmers Receive Agriculture Training in Belambai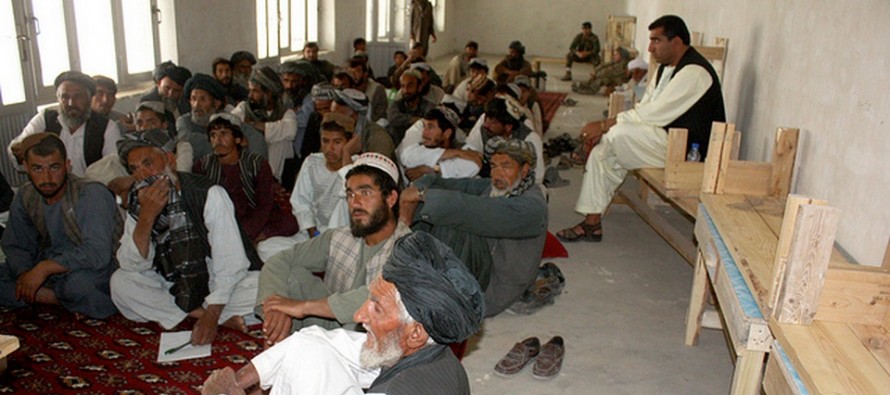 Approximately 50 farmers attended an agricultural course conducted by District Agriculture, Irrigation, and Livestock (DAIL) representatives in Belambai village, Panjwai district, Kandahar Province, March 18.
Farmers of all ages from surrounding villages in the Zangabad region learned fertilization, seeding, soil-testing techniques and pesticide use to increase crop production while controlling destructive pests.
"The training was very interesting and educational," said Nissar Ahmed, a community health worker trainee and farmer. "I was very impressed by the topics covered especially the part about pesticides. I did not realize the different types of pesticides for so many pests. I now know how to take better care of my crops."
Belambai malik Ahmed Shah represented DAIL spokesperson, Mohammed Wali, and supervised the course.
"The training gives our people more than just an object they can take home with them," said Ahmed Shah. "Their quality of life will improve."
The DAIL provided farmers supply vouchers at the conclusion of the course to stimulate the local economy. The vouchers, worth 5,000 Afghanis, encourage farmers to purchase farming supplies from local merchants.
"Agriculture is their livelihood," said Ahmed Shah. "Agricultural training is very valuable to people in Zangabad."
Shah encouraged the farmers to ask the district for help when agricultural problems arise.
---
---
Related Articles
The World Wide Web (www) turned 20 years old on 30 April 2013! Happy Birthday in arrears to our, I
The 4th Annual TEDxKabul event took place on March 30th and 31st at Kabul University, with the speaker line-up including
The Asian Development Bank (ADB) in its Asian Development Outlook (ADO) 2018 report has projected Afghanistan's economic growth at 2.5%