Female entrepreneurs develop business skills with German support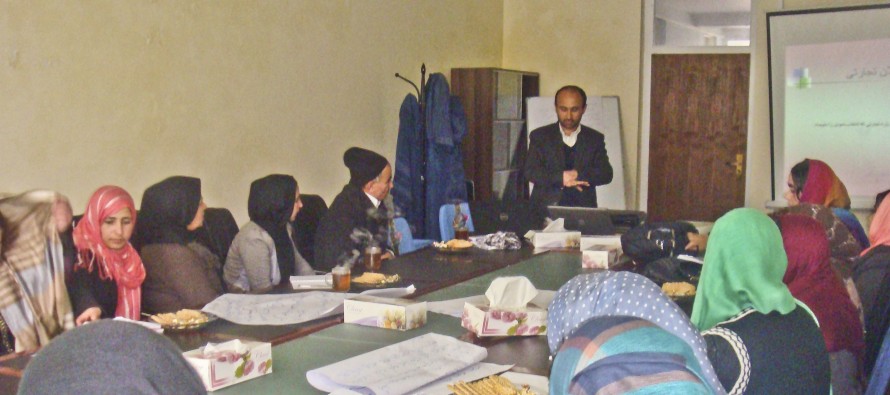 25 female entrepreneurs concluded a four-day workshop on business planning in Faizabad, the capital of Badakhshan province. The training was conducted by the provincial Department of Women's Affairs (DoWA) and financed by the Regional Capacity Development project (RCD) that is implemented by Afghan-German Development Cooperation.
The workshop was the first of many events in the newly opened women's training centre which neighbours the women's market. Both facilities were implemented by DoWA with German financial support. They share the objective to promote gender equality and will focus on issues, such as legal awareness, violence against women, and management skills.
The women's market with its ten shops is a business undertaking and gives local business women from different districts of Badakhshan the opportunity to market their goods and services in Faizabad.
The knowledge of methodological business planning training is crucial for running the market. Also, the training strengthened the planning and marketing capacities of the women entrepreneurs who are selling jewellery, pottery, clothes, embroidery, and food.
Speaking at the graduation ceremony, Mrs. Zofonoon Hasam Natiq, Head of DoWA, and Mr. Adina Mohammad Zibakyan from the Provincial Governor's Office stated that business opportunities are crucial to reach equal rights and opportunities for women.
"Development projects should focus even more on women empowerment which would benefit the whole society and be an impetus for further social and economic development," said Mrs. Zofonoon Hasam Natiq.
The training started the day after the International Women's Day was celebrated in Faizabad. Hundreds of guests from all over the province participated and many used the opportunity of buying goods from the shop owners of the women's market.
The workshop was managed by DoWA Badakhshan and supported by the Regional Capacity Development project (RCD) in Badakhshan, which is financed by the German Federal Ministry for Economic Cooperation and Development (BMZ).
As part of Germany's cooperation with Afghanistan, the RCD, which is financed by the German Federal Ministry for Economic Cooperation and Development (BMZ), is implemented by Deutsche Gesellschaft für Internationale Zusammenarbeit (GIZ) GmbH. In six provinces in northern Afghanistan, RCD supports its partners' development priorities in the provinces and districts, while at the same time providing training and coaching programmes for civil servants. With its broad range of activities, the RCD aims at increasing Afghan ownership of the development process, strengthening state institutions and promoting transparency and inclusiveness.
---
---
Related Articles
The 8th Annual US-Afghanistan Business Matchmaking Conference (BMC) was held in Washington D.C. from 02 December to 04 December. The
Office of the Administrative Affairs claimed that local companies and officials in position of power are the main people triggering
Afghanistan and Tajikistan signed memorandum of understandings to encourage cooperation in the areas of customs, arts, culture, media and investment.