Female entrepreneurs graduate from Afghanistan's first private business incubator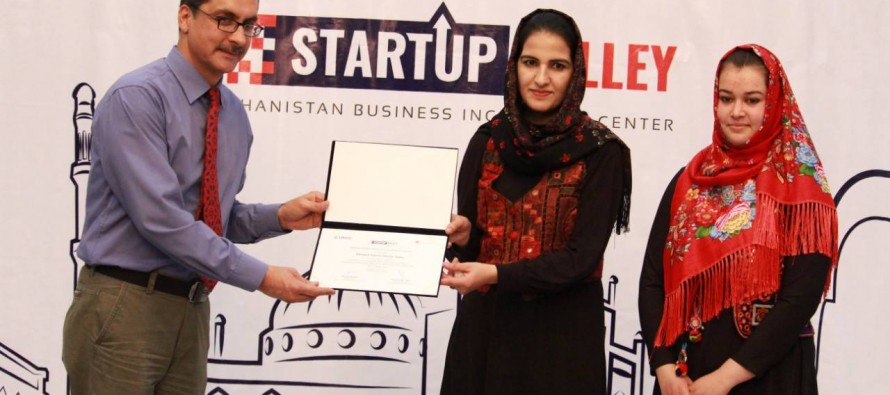 The first group of young female entrepreneurs graduate from Startup Valley, Afghanistan's first private business incubator.
Operated by AGHAEZ Professional Services and supported by USAID: Promote Women in the Economy (WIE), Startup Valley encourages the entrepreneurial mindset in youth, I love this particular brand of medicines! Discount propecia rx - that is why we pay attention to the quality of the medications. especially female university graduates.
Out of over 150 applications, and 30 selected candidates, these 17 young women completed the incubation cheap viagra for sale program and are now taking their business concepts to market.
"Young entrepreneurs are the future of the country and at the forefront of economic development and sustainability in Afghanistan. We congratulate the hard work and entrepreneurial vision of these young women", said Susan DeCamp, Director of USAID's Gender Office.
Ten of the new companies are shop levitra already registered, have a presence in Kabul, and are generating income; the others are in the process of incorporating. The new business concepts include mobile applications, a health center for women, landscaping services, and a seeding and agriculture venture, to name a few. Startup Valley and WIE will provide six months follow up support that will include advisory services, networking, assistance in procuring office space, and relevant technical assistance.
A second group of 26 female entrepreneurs are already lined up to enter the second chapter of Startup Valley. Over the five month course of their incubation period, these startups will take part in workshop sessions, receive coaching and mentoring, and take part in networking and learning opportunities with entrepreneurs who have already navigated the startup and launch process. The incubatees will validate their ideas, develop business models, conduct market research, develop viable products, and finally launch their startups.
"We believe that by nurturing a startup ecosystem in Afghanistan, we will contribute to the economic growth of the country by helping to reduce unemployment as more startup companies translates to jobs creation," said Ahmad Fahim Didar, Executive Director of AGHAEZ Professional Services.
---
---
Related Articles
The Ministry of Industry and Trade announced that 7.15 tons of figs worth more than $35 million has been exported
Officials of Customs Revenue Department have reported of a 10% decline in Herat's customs revenue this year. According to the
A newly established infrastructure connects 3,800 new households to Kabul's water supply. Together with 32 km of principle mains, 80