Female government officials participate in women's rights workshop in Balkh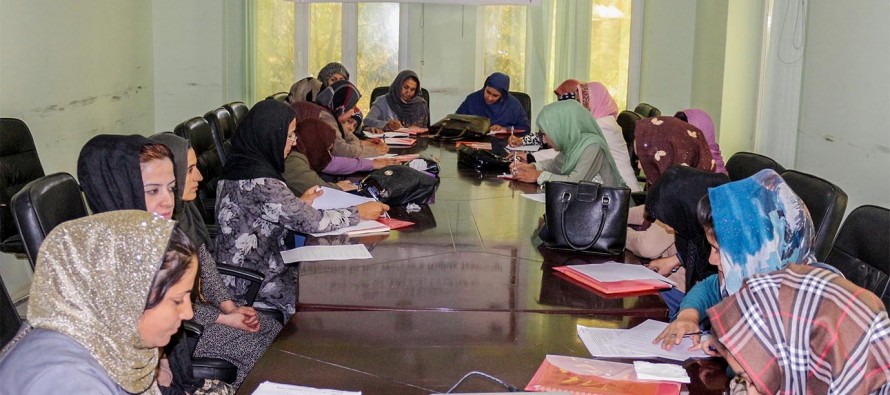 A three-day workshop on women's rights was held in Balkh district for 60 female council members to increase awareness on women's rights topics.
The training was organized by the Department of Women Affairs (DoWA) of Balkh province. The German funded program Regional Capacity Development (RCD) financed the workshop and technically supported the activity.
Female members of District Development Assemblies (DDAs) receive quite many women-related cases. These workshops help to know more about women's rights, the Islamic Sharia related to women rights topic, to ensure justice and to avoid the violation of women's rights," said one of the participants, Ms. Deba. Other participants said the workshop was helpful to support combating domestic violence against women.
The objective of the workshop was to raise gender awareness amongst female council members and to strengthen legal capacities of employees regarding this topic. The workshop covered topics such as women's rights to education, ownership and heritage, dowry and marriage.
"I learnt that women are also fully protected by law and the Islamic Sharia," said one of the participants.
The workshops were held at the Women Training Centres in Dehdadi, Dawlatabad and Balkh districts. The Women Training Centres were established in the past with financial support from the German government.
As part of Germany's cooperation with Afghanistan, the Regional Capacity Development program (RCD) is financed by the German Federal Ministry for Economic Cooperation and Development (BMZ). In six provinces in northern Afghanistan, RCD supports its partners' development priorities, while at the same time providing training and coaching programs for civil servants. With its broad range of activities, RCD aims at increasing Afghan ownership of the development process, strengthening state institutions and promoting transparency and inclusiveness.
---
---
Related Articles
Pakistan's Foreign Affairs Ministry has said Wagar border is open for Afghan traders as part of the Afghan-Pak bilateral agreement.
Afghanistan was temporarily suspended from the Extractive Industries Transparency Initiative (EITI) in January 2019 after demonstrating "inadequate progress" in implementing
Afghan Ministry of Defense has informed that reconstruction work of Alchin bridge, the main bridge connecting the northern provinces with