Financial management training conducted in Samangan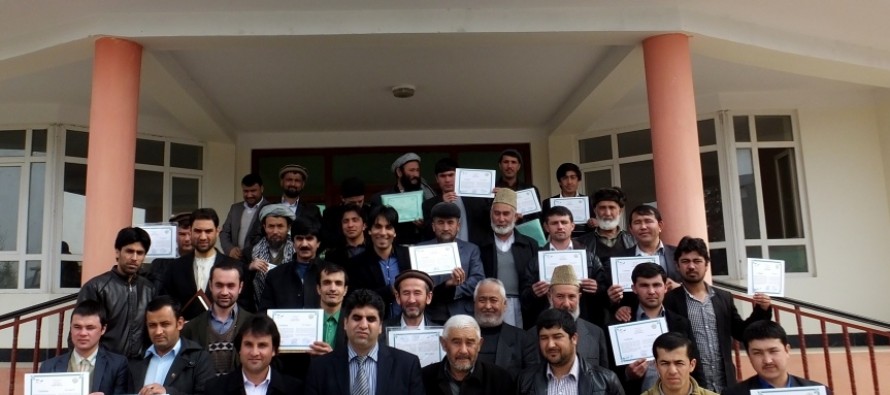 One of the biggest problems public servants in the Afghan government face today is the lack of proper training needed to stay up to date with the new methods necessary to do their jobs. In a bid to address this problem, the "Mostofiat" department of Samangan along with the technical and financial support of the German government conducted an 18-day training for 24 civil servants of the province.
Conducted by two highly qualified trainers and completed at a cost of more than AFN 628,000 (USD 10,889), the training focused on a wide range of topics including methods of increasing revenue, effective techniques of dealing with accounting system challenges and improving the quality of service to the general public.
During the certificate handover ceremony, Saddiq Azizi, the spokesperson for Samangan's governor showed his appreciation for the process and said: "We do believe that such measures play a significant role in bringing transparency to the departments and implementing administrative reforms."
Ms. Nawidah Mutmain, an officer of the "Mostufait" added: "This training provided us with a very unique opportunity to address our routine problems. We talked in working groups and shared ideas in practical lessons which led to mutual learning. I am happy to return to my working place with this knowledge."
The "Mostofiat" department in Samangan was responsible for selecting the trainers, inviting the participants and facilitating the training hall. The training was supported by the Regional Capacity Development project (RCD) in Samangan, which is financed by the German Federal Ministry for Economic Cooperation and Development (BMZ).
---
---
Related Articles
The Afghan government has received USD 6mn in loan which will go to farmers, small entrepreneurs and agricultural producers to
Gas dealers in southern Kandahar province have urged the Afghan government to halt the smuggling of liquefied gas to Pakistan.
Draft plans for the Kabul-Delhi route and the Kandahar-Amritsar route have been prepared and the routes will start within two