Firewood prices soaring in Kabul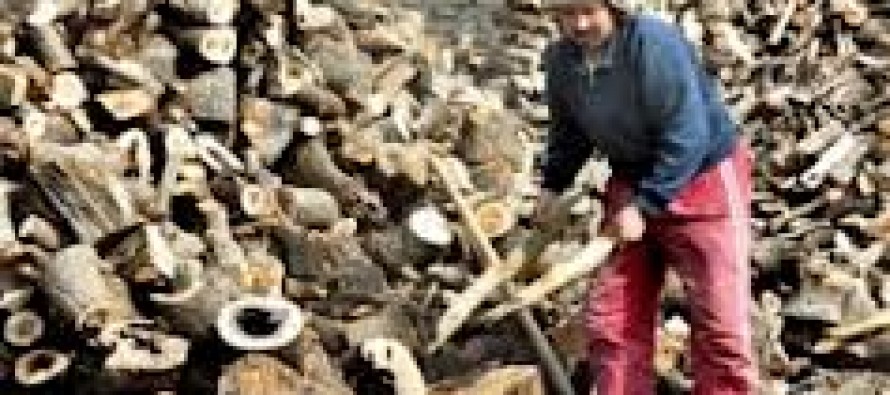 (Pajhwok Afghan News Weekly Price Report) Prices of liquefied gas and firewood jumped and gold rates fell during the outgoing week in Kabul, dealers said on Thursday.
One kilogram of gas was sold for 65  AFN against its last week's rate of 53 AFN, said a dealer, Zabihullah, who linked the surge to the advent of winter and rising demand.
However, the Ministry of Commerce and Industry says one kg gas should be sold for 59 AFN. The ministry has assigned inspection teams with monitoring gas rates in all parts of the city.
Faridullah Sherzai, head of the commerce ministry's fuel department, said a $25 increase in per tonne of gas sent its price soaring.
The ministry's spokesman, Wahidullah Ghazikhel, said gas prices would start declining as soon as stocks from the Hairatan dry port arrived in Kabul.
With the arrival of the winter, firewood prices have also soared. The price of per 560 kilograms of peeled oak rose from 7,200 AFN to 7,400 AFN and unpeeled oak from 6,800  AFN to 7,200.
The rate of same amount of cedar increased from 6,200 AFN to 6,800 AFN, said Hamid, a stall owner in the Sarsabzi area, told Pajhwok Afghan News.
Meanwhile, prices of diesel and petrol stayed stable at 64 per litre, said Abdul Hadi, a filling station official in Wazirabad area.
Abdul Baseer, a jeweler in the upscale Shahr-i-Naw neighborhood, said gold prices had slipped, with one gram of Arabian gold sold for 2,150 AFN against last week's rate of 2,200 AFN and the same quantity of the Iranian variety for 1,700 AFN, compared with 1,750 AFN last week.
Food prices stayed stable. According to Fazal Rahman, the Food Traders' Union head, a 49-kg sack of Pakistani flour cost 1300 AFN, a 24-kg bag of Pakistani rice 1800 AFN and a 50-kg sack of sugar 1700 AFN.
Similarly, a kg of Indonesian green tea was priced at 175 AFN, same quantity of African black tea at 210 AFN and a 5-litre tin of Momin Ghee at 400 AFN — same rates as last week's.
But a retailer in the Kart-i-Seh area of Kabul, Khan Ali, sold a 49-kg bag of Pakistani flour for 1,360 AFN, a 50-kg sack of sugar for 1,950 AFN and a 49-kg bag of rice for 2,000 AFN.
He sold a 5-kg tin of Momin ghee for 460 AFN and a kilo of African black tea for 280 AFN and the same quantity of Indonesian green tea for 240 AFN, higher than wholesale prices.
Moneychanger Ahmad Shah said the buying rate of one US dollar was 57.70 AFN, while 1,000 Pakistani rupees accounted for 540 AFN. Last week's exchange value of the dollar stood at 57.50 AFN and 1,000 Pakistani rupees at 540 AFN.
---
---
Related Articles
The new Technical Teacher Training Academy (TTTA) was inaugurated in Kabul on 4 December 2013 by Asif Nang, Deputy Minister
A major housing project, consisting of 111 blocks and 3,330 apartments, will soon be inaugurated in Kabul with financial collaboration
Afghan judges and court administrators joined representatives  from the United States Agency for International Development (USAID) on Monday to celebrate