First Afghan-German Mining Resource Dialog held in Berlin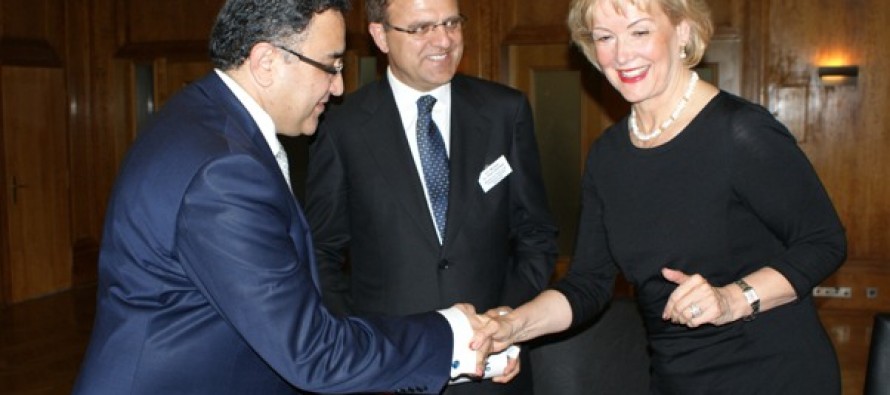 Finance Minister Hazrat Omar Zakhilwa attended the "First Afghan-German Mineral Resource Dialog "in Berlin, Germany. The senior level Afghan delegate also  included Minister of Mines Wahidullah Shahrani.
The Afghan-German meeting supports development of a stable and strong private sector in Afghanistan accelerating economic growth and welfare of the country. The Afghan delegate discussed the investment and cooperation opportunities in the Afghan Mining sector with the German Industry, German political officials and German Scientists in the Mining sector. Some potential investors who met the Minister of Finance are planning a visit Kabul after Ramadan to further discuss and assess investment opportunities that will also help create new jobs. This investment could be realized by an Afghan-German joint venture.
During this dialog, Dr. Zakhilwal said "The development of the private sector in Afghanistan is key to reach a self sustaining economy in the future".  Finance Minister further added" The mineral sector is the most important industrial sector in Afghanistan which is able to create income for the people as well as for the Government"
Visit of the German Printing House (Deutsche Bundesdruckerei)
In the sideline of the visit, Dr. Zakhilwal also had a very fruitful meeting with the Management of the German Printing House (German State owned company) in Berlin. He visited the production line that publishes high security documents (Passports and ID Cards).  Ministry of Finance is working with the German Foreign Office in Kabul in establishing a similar printing house in Kabul This investment is sponsored by the German Government and supported by the experienced German Printing House.  This project will start in Kabul after the Holly month of Ramadan.
---
---
Related Articles
Officials of the Metallurgical Group Corporation (MCC) have rejected reports about the Mes Aynak project headed for failure and assured
Think about your biggest weaknesses at work and in life. What qualities are you most unhappy about? Of the following
The Afghanistan Investment Support Agency (AISA) chief Mohammad Qurban Haqjo said on Wednesday that promoting small and medium enterprises (SMEs)