First Bakery Training Centre in Balkh Province – Lead by Women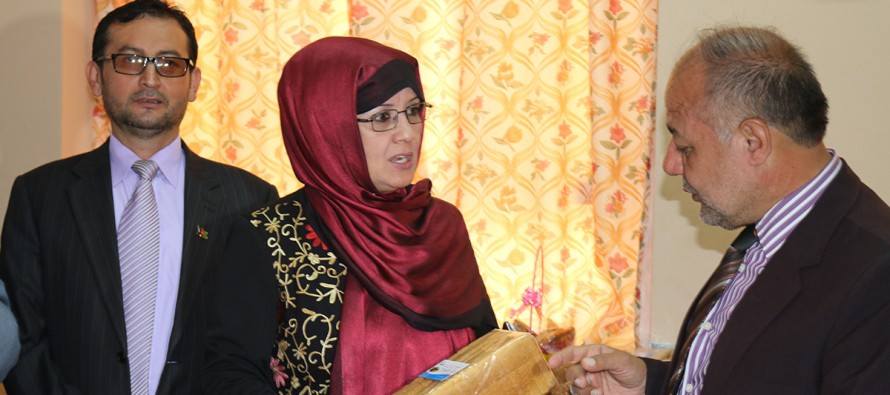 Balkh's first Bakery Training Center led by women was inaugurated on Sunday.
The centre operates as a bakery as well as a training facility for apprentices. The Afghan-German Cooperation initiated and financed the project while the Balkh Directorate of Women Affairs (DoWA) provided the land for the center's construction.
Ten local women have found a permanent job in the center.
"Today, with the German government's support, we are able to inaugurate the first bakery training center for women. It allows women to work and learn in an adequate environment and is unprecedented in Afghanistan," said Shahla Hadid, director of DoWA.
The head of Balkh's provincial council, Mohammad Afzal Hadid, said, "The bakery training center stands for sustainable economic development and employment creation. It is a great opportunity for Balkh's women. I look forward to the high quality products they will produce."
The construction works on the Bakery Training Center started in February this year. It now operates as a full-time bakery, but also offers training courses for almost 50 new entrepreneurs and existing provincial bakers from six Afghan provinces: Balkh, Samangan, Baghlan, Kunduz, Takhar and Badakhshan. The courses will develop technical skills, improve baking practices and services, and introduce new premium quality products.
Throughout the event, attendees had the chance to try bakery products, look at the center's modern equipment and learn about new baking practices.
As part of the Afghan-German Cooperation, the Sustainable Economic Development and Employment Promotion (SEDEP) program supports the wheat value chain in Afghanistan by providing farmers with new planting and harvesting equipment and related technical trainings. It further offers courses on new and improved practices for both producers and processors as well as specialised business support services to seed companies.
On behalf of the German Federal Ministry of Economic Cooperation and Development (BMZ), the Sustainable Economic Development and Employment Promotion (SEDEP) program is implemented by the Deutsche Gesellschaft für Internationale Zusammenarbeit (GIZ) GmbH. The project supports various activities to strengthen businesses and create jobs in Afghanistan in the following five value chains: nuts, dairy, poultry, wheat and vegetables. Apart from training and infrastructure development initiatives, the German government also helps to establish dialogues between public and private sector actors. Farmers and government can address concerns and draft policy recommendations to improve economic opportunities.
---
---
Related Articles
Afghan President Ashraf Ghani is attending the two-day "Heart of Asia" meeting in Islamabad, Pakistan on Tuesday where member countries
The third annual Passage to Prosperity: India-Afghanistan International Trade and Investment Show was officially inaugurated by U.S. Ambassador to Afghanistan
As many as 17 development projects are going to be implemented in Takhar province at an estimated cost of USD