First RECCA Ambassadorial Coordination Meeting of 2018 held in Kabul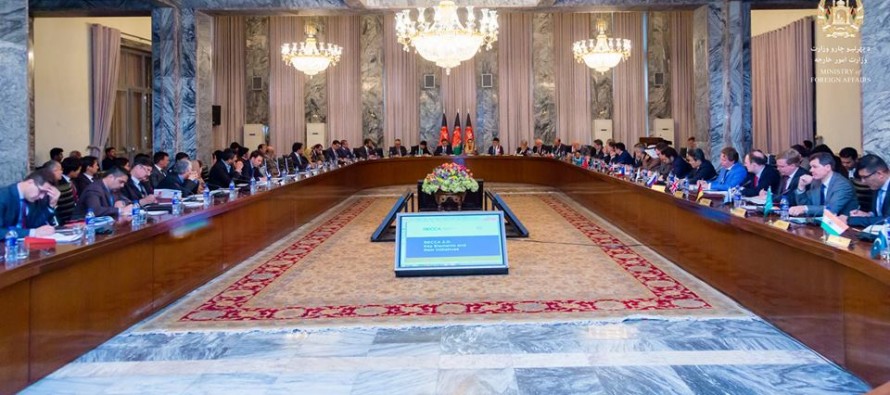 Afghanistan's Ministry of Foreign Affairs hosted the first RECCA Ambassadorial Coordination Meeting of 2018 today in Kabul.
The meeting was attended by the Heads of Mission of the RECCA regional and partner countries and organizations, deputy ministers and high level representatives from the line ministries as well as the private sector institutions.
Addressing the meeting, Afghan Deputy Foreign Minister for Economic Cooperation Adela Raz highlighted some of the new achievements of the Afghan government in the energy, trade and transit as well as transport sectors.
"Thanks to our collective efforts and achievements, regional economic cooperation has now taken root in our wider region and many aspect of connectivity including energy and transport connectivity as well as digital connectivity continue to make progress. People and businesses across the region have already started benefiting from greater connectivity and expanded trade and have loudly voiced their support to the ongoing regional cooperation efforts in the wider region," said Raz.
The meeting also included presentations on TAPI gas pipeline project, CASA 1000 and TAP 500, the Chabahar Corridor, priority railway segments, and the RECCA Chamber of Commerce and Industries.
In addition, two policy papers on regional economic cooperation and women's entrepreneurship development under the RECCA Brief Policy Series were also launched.
---
---
Related Articles
Political Analysts have expressed their deep concerns about the pervasive corruption in the country that may lead to loss of
By Richard Sale: Next year's drawdown of U.S. forces and decline in U.S. aid will leave in its wake an
The Department of Commerce and Industry of Balkh Province announced that recently the volume of exports and imports through the