Five Afghan Companies Form Public-Private Alliances with USAID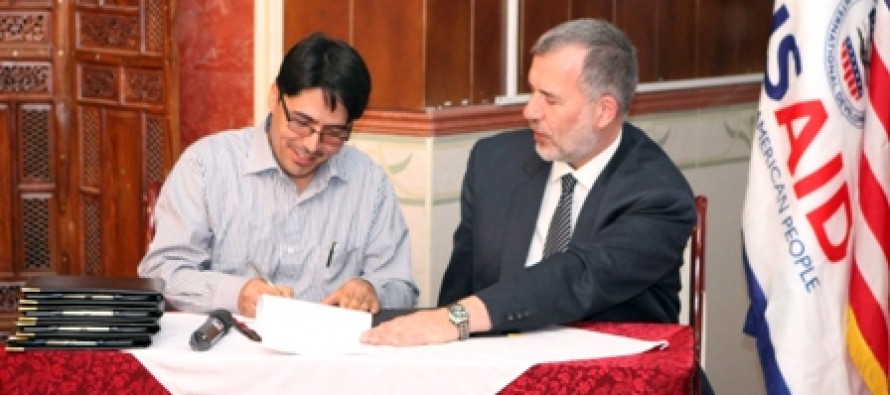 Five Afghan companies signed the first Public-Private Alliances (PPAs) with USAID in Kabul today. These companies have matched USAID funding, reaching a total investment value of more than $4.5 million.
Through its Building Afghanistan by Developing Enterprises (ABADE) program, USAID will assist these firms to expand their businesses and inject additional revenue into the Afghan economy. The alliances are expected to create more than 260 direct and over 2,200 indirect new jobs.
The first five alliance partners include a fruit and nut processing facility in Kandahar, an innovative worm composting facility in Kabul, a construction machinery firm in Kabul, a pine nut harvesting and production project covering the Eastern forests and a quarry and marble processing facility in Maydan Wardak. Two of these companies are women-owned.
"The Green Organic Agricultural Production Company is grateful to ABADE for their investment in our project, and we hope this paves the way for the success of other women-owned enterprises in Afghanistan," said Ms. Hakima Zolfaghari, the company's President.
Afghan businesses that enter into alliances with ABADE have access to new technologies, equipment and technical assistance to help them grow their businesses.
"This program mobilizes private-sector resources and ideas by encouraging investments and business initiatives through Public-Private Alliances. I would like to use this opportunity to encourage small and medium enterprises and Afghan government partners to actively engage with ABADE," said Jerry Bisson, USAID Acting Mission Director.
PPAs in Afghanistan successfully combine the development goals of increased employment and economic growth with the business goals of increased revenue, market share and profit, with a focus on advancing opportunities for women and youth.
"Given the dedication, competency and professionalism of ABADE staff, I am fully confident that together we will achieve our desired results," said Mozammil Shinwari, Deputy Minister for Trade in the Ministry of Commerce and Industries.
---
---
Related Articles
Thousands of fruit trees in different areas of Khak-e-Jabar district of Kabul province has been afflicted with agricultural pests. Residents
Work on the construction of a 10-km road has officially begun in Paroon district of eastern Nuristan province. The road
Iranian government has announced its agreement to distribute lands to Afghan businessmen at the Chahbahar port in Iran, where they