FMIC raises awareness on non-communicable diseases in Afghanistan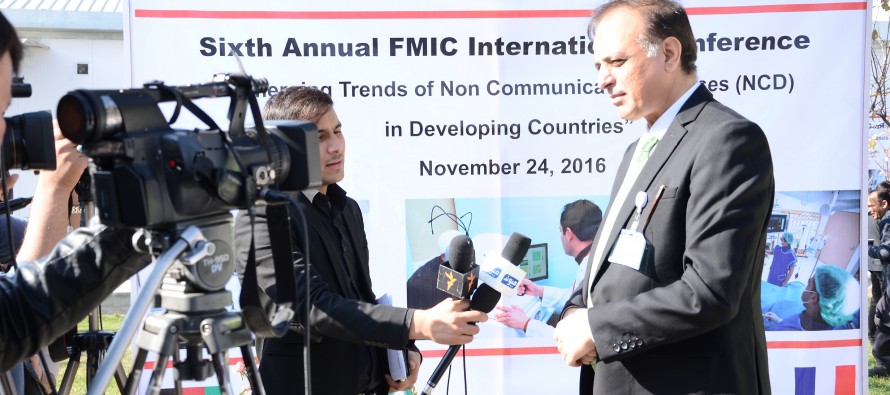 This year's conference on the theme of emerging trends in non-communicable diseases saw Deputy Minister of Public Health, Health Services Delivery, Dr Najia Tariq join doctors, academics and public policy experts from Afghanistan and Aga Khan University to discuss health proposals that could have an immediate and long-lasting impact on Afghanistan's health.
Non-communicable diseases such as cardiovascular diseases, cancer, diabetes, respiratory disorders, and digestive illnesses are the leading cause of deaths in the world and claim 38 million lives each year. Almost three quarters of global NCD deaths – 28 million – occur in low and middle-income countries and data from the World Health Organization (WHO) shows these diseases account for nearly 37 per viagra in canada cent of all deaths in Afghanistan.
The burden of non-communicable diseases in Afghanistan is likely to rise as the World Bank foresees a demographic transition in the country. This change will see Afghanistan's population consist of a greater proportion of people between the ages of 40 and 60, who are more likely to suffer from these diseases.
"The increasing mortality due to the major non-communicable diseases has a major impact on the health of communities and the economy of Afghanistan, said discounted cialis online Deputy Minister of Public Health, Dr Najia Tariq at the conference. "Such academic events help us identify areas that deserve our concentrated attention. We hope that with our partners like Aga Khan Development Network and French Government we can work specifically to address NCDs rising trends".
In his presentation, Dr Khawar Kazmi, Professor of Cardiology at the Aga Khan University, outlined the importance of preventive clinical measures and community- based interventions in tackling non-communicable diseases. He also highlighted recommendations contained under the WHO's 2013-2030 Global Action Plan For the Prevention and Control of Non-Communicable Diseases and explained how those policies could be applied to Afghanistan.
Dr Kazmi also spoke of the particular challenge posed by cardiovascular disease: "Cardiovascular diseases account for the most NCD deaths worldwide at nearly 17.5 million people. In Afghanistan death due to heart disease are 19 per cent of the total. To reduce NCDs we have to focus on the risk factors associated with these diseases. Low-cost solutions exist such as improving physical activity, health diet and no tobacco use."
Speaking at the conference Mr Hans Pascal, Cultural Counselor, French Embassy in Afghanistan, stated: "The Government of France is very pleased to continue its support to FMIC's Academic programmes and capacity building to ensure that the service delivery at FMIC meet the needs of Afghans".
The one day conference also heard discussions on reproductive, maternal, newborn and child health; medical care, quality and patient safety, and public health and health systems. More than 90 projects were presented over 500 participants were in attendance.
FMIC is the product of an innovative public-private partnership between the Governments of Afghanistan and France, the French NGO La Chaine de L'Espoir/Enfants Afghans, and the Aga Khan Development Network. It is managed by the Aga Khan University.
FMIC is the first hospital in Afghanistan to perform open and closed paediatric heart surgeries by local Afghan team of surgeons. In 2015, with support from La Chaine de L'Espoir and Aga Khan University FMIC started Cardiac Cathertisation Laboratory and adult cardiac surgeries. The program will help decrease medical tourism and will contribute to considerable improvements toward health service delivery in Afghanistan.
Mr Mir Ahmad Joyenda, Member of FMIC's Provisional Operating Committee pointed on FMIC's initiatives for the improvement of healthcare in Afghanistan both clinical and medical education through Post Graduate Medical Education Programme, eLearning and other training opportunities for nurses and doctors.
The conference was also attended by representatives from ministries, embassies, AKDN agencies, national and international NGOs, civil society, healthcare providers around Afghanistan and media.
---
Related Articles
The foundation stone of railway station and customs house were laid in Hesar Shahi industrial zone, Nangarhar province. The railway
A new compound for the Afghanistan Investment Support Agency (AISA) branch in Khost would be constructed soon, said Governor Abdul
Twenty containers of Afghan dry fruits have arrived in Mumbai city of India through the Chabahar Port. Afghan traders are