Food prices edge up in Kabul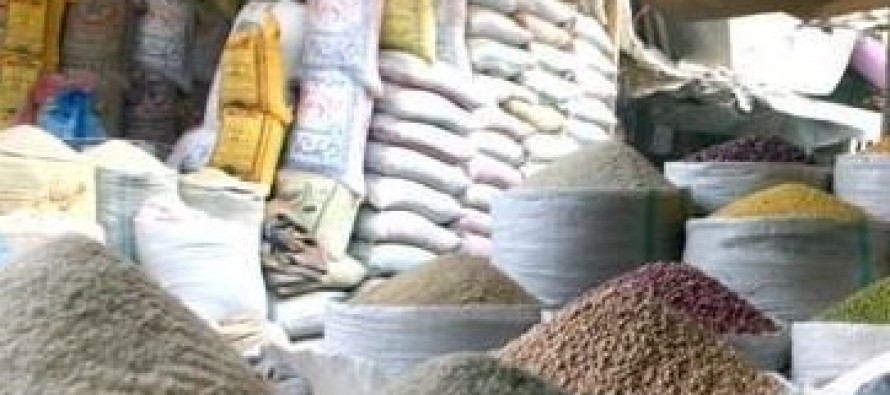 (Pajhwok Afghan News Weekly Price Report) The prices of flour, rice and sugar surge during the outgoing week in Kabul, where rates of other daily-use commodities stayed stable, retailers said on Thursday.
The price of a 24-kg bag of Pakistani rice jumped from 1,700 AFN to 1,800 AFN, a 50-kg bag of sugar from 1,700 to 1,750 AFN and a 49-kg flour bag from 1,200 to 1,230 AFN, according to Fazal Rahman, the Food Traders' Union head. He linked the surge to cuts in imports from Pakistan.
However, the prices of other commodities stayed unchanged as a 5-liter Momin ghee sold for 400 AFN, a kilo of Indonesian green tea for 175 AFN and the same quantity of black African tea for 210 AFN, the same prices as last week.
A liter of petrol cost 58 AFN and the same amount of diesel 63 AFN, said Abdul Hadi, a pump station manager in the Wazirabad area.
Meanwhile, Mohammad Sharif, a gas dealer in the Kalola Pushta area sold a kg of liquid gas at 47 AFN, registering no change.
Gold prices also stayed stable in the Kabul markets, with one gram of Arabic gold costing 2,100 AFN and the same amount of Iranian gold 1,750 AFN, said Abdul Basir a jeweler in the Lacyee Maryam neighborhood.
The exchange value of one US dollar was 56.60 AFN and 1000 Pakistani rupees accounted for 548 AFN, money exchanger Ahmad Shah said.
---
---
Related Articles
JICA calls on the government to take charge of expropriation of private lands where new projects are to be implemented,
The Australian government in collaboration with the United Nations Population Fund (UNFPA) has announced to grant USD 1.5mn to be
Mining Minister Waheedullah Sharani said that Exxon Mobil Corp, the world's biggest non-state oil company, has not yet turned up