Food storage facility inaugurated in Charbolak district of Balkh Province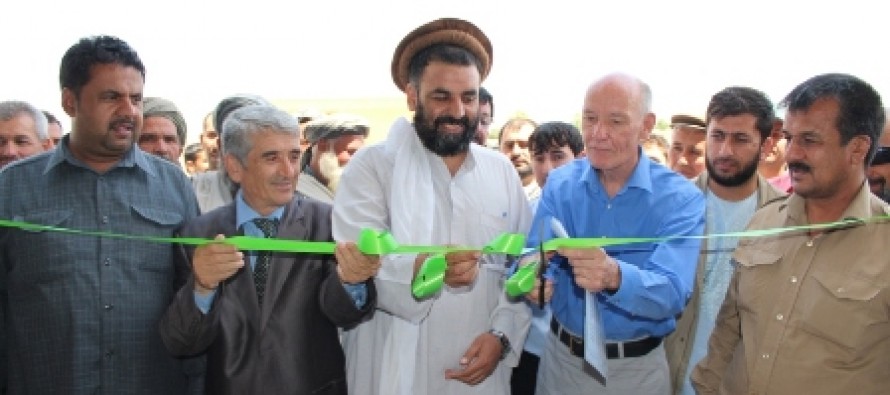 On 12 June 2013 a food storage facility was inaugurated in Charbolak District of Balkh Province. Kateb Shams, Director of the Department of Agriculture, Irrigation and Livestock (DAIL) of Balkh Province and Ahmad Wali Sangaar, economic expert of the Provincial Governor's Office, attended the ceremony. Also, Mohtasembullah Khan from the Department of Agriculture, Irrigation and Livestock (DAIL) and Florian Smitmans, representing the Af-ghan-German Cooperation, were present.
Agriculture is the main source of income for the people of Charbolak district, among them 25,000 farmers. Now, individual farmers and cooperatives can register with the department of agriculture to have their produce stored in the facility. Wheat, barley and red beans are among the most common commodities stored. The system of collective storage avoids wastage and is better suited to accommodate market demands. Most importantly it ensures food security and better income for the people of Charbolak district.
At the ceremony farmers expressed their appreciation for the work of the provincial gov-ernment and the support from Germany. The construction of the storage in Charbolak was realised by DAIL of Balkh province. The Provincial Development Committee (PDC) Balkh had decided to have the project realised beforehand. It was supported by the Regional Ca-pacity Development Fund (RCDF) Balkh, which is financed by the German Federal Ministry for Economic Cooperation and Development (BMZ).
As part of the German Cooperation with Afghanistan, the RCDF is implemented by Deutsche Gesellschaft für Internationale Zusammenarbeit (GIZ) GmbH. The RCDF is sup-porting the development priorities of the Afghan partners at provincial and district level in six Northern provinces of Afghanistan while at the same time providing training and coaching programs for civil servants. With its broad range of activities, the RCDF aims to increase Afghan ownership of the development process.
---
---
Related Articles
According to officials, Tajikistan's cricket board officials have approached Afghanistan's cricket board director Noor Ahmad Murad for technical assistance. Despite
The World Food Program (WFP) today welcomed a new contribution of AUD 5 million from the Government of Australia to
Two new facilities were officially opened today in Badakhshan University in Faizabad. The university now has a new agriculture faculty