Forum Held on Collaboration Between USAID and Afghan Universities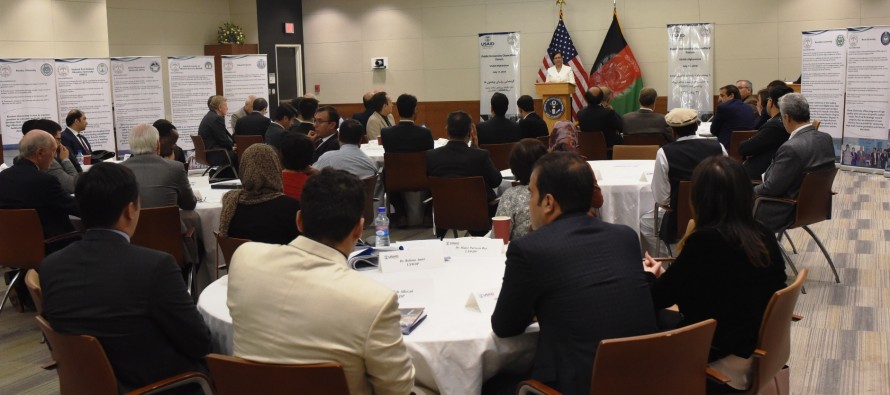 In collaboration with the Ministry of Higher Education (MoHE) and chancellors from 11 Afghan public universities, USAID held a one-day University Chancellors' Forum today under the USAID-funded University Support and Workforce Program (USWDP). 
The forum focused on the role of Afghan universities and institutions of higher learning as centers of knowledge and academic excellence, as well as safe spaces that help shape the future of Afghanistan.
"The United States wants Afghanistan and its people to succeed. We want to help all of you and your colleagues inside and outside government, create a future Afghanistan in which every citizen in this country has the opportunity to live in peace and dignity," said U.S. Ambassador John R. Bass. "Achieving that goal requires education," he added.
Forum participants discussed the previous year's achievements, current best practices, future opportunities, and challenges facing higher education in Afghanistan. They also reviewed ways to sustain relationships with their U.S.-based partner universities and newly created degree programs. The implementation of the new MoHE Policy on Nondiscrimination and Anti-Harassment, the expansion of and use of Higher Education Management Information Systems, the improvement of student support services at career centers, and strategic approaches to improving the quality of higher education were also prominent topics of discussion during the forum.
Chancellors from Balkh University, Herat University, Jawzjan University, Kabul University of Medical Science, Kabul Polytechnic University, Kabul University, Kandahar University, Kunduz University, Nangarhar University, Shaheed Rabbani Education University, and Sheikh Zayed University participated in the forum, along with the minister and deputy ministers of higher education, U.S. government officials, USWDP representatives, and other education stakeholders.
"With financial support USAID and technical support from USWDP, the Ministry of Higher Education undertook many initiatives" said Dr. Najibullah Khwaja Omary, Minister of Higher Education. "We successfully reformed the national university entrance examination–Kanokor, established e-attendance at MoHE, established and enhance 31 academic degree programs including 9 Master's Degree programs," he added.
Through the University Support and Workforce Program, USAID supports efforts to improve the administrative capacity of the Ministry of Higher Education and universities and provides technical assistance to establish new market-oriented degree programs.
---
---
Related Articles
Members of the Lower House have shifted the blame onto the government for the delay in ratification of Anti-Money Laundering
In November 2017, the Afghanistan Research and Evaluation Unit (AREU) launched a three-pronged research initiative with financial support of the
Ministry of Energy and Water (MoEW) official said Afghanistan could avail itself of the Central Asia-South Asia (CASA-1000) electricity transmission