Founder Institute creates networking opportunities for business in Kabul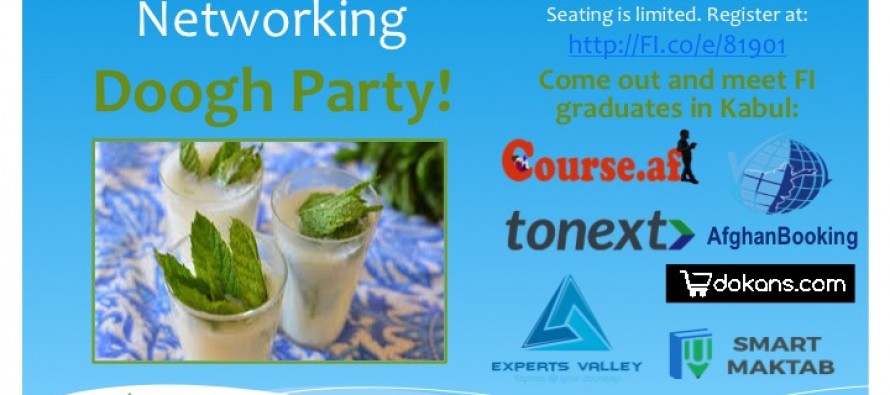 On Thursday June 2nd, The Founder Institute will host a networking event where aspiring entrepreneurs can mingle with seasoned business people, and also hear from graduates of Founder Institute in Afghanistan, who are now running their own businesses.
 The event, to be held at Le Bistro Restaurant in Shar-e-naw, will draw Afghans thinking about launching a startup, and is a chance to connect with the resources available in the city for startups. Participants will also enjoy delicious fresh doogh in the garden at the beautifully decorated Bistro venue.
Individuals should register for Startup Panel and Networking Doogh Party in advance as seating is limited, and must register online at: http://FI.co/e/81901. In addition to the presentation, guests will also have the chance to ask the graduates questions about their experience, and to learn more about FI's upcoming program in Kabul.
"It's underestimated how important building a social and professional network is for getting a business off the ground, especially in this environment in Afghanistan where it is more challenging to navigate what resources and contacts are available to new businesses trying to establish themselves" said Jamshid Hashimi, Co-Director of Founder Institute in Kabul. "Our series of events in Kabul tries to give a space for this network building to occur, and we're so excited when we see connections and partnerships coming out of these events."
The Founder Institute is the world's premier idea-stage accelerator and startup launch program, whose graduates have created 2,100 companies launched with a 79% company survival rate, having created over 15,000 jobs (as of June 2016). FI is the most challenging and effective step-by-step Startup launch program for talented and motivated aspiring entrepreneurs. It provides a structured process, constant feedback and evaluation from expert mentors, and global network of entrepreneurs to support entrepreneurs to start an enduring company. In addition, the Founder Institute is the only program of its kind that focuses on people versus ideas, accepts founders with day jobs, and shares equity with all participants.
FI's structured, 4-month curriculum of weekly training courses and business-building assignments will start in Kabul this summer. FI is now accepting applicants from Kabul and is particularly encouraging female entrepreneurs to apply, offering a limited number of scholarships to support their participation.
---
---
Related Articles
Officials in the Islamic Republic of Iran say the government has issued a permit to transport gas and oil through
Ministry of Finance officials have reported an increase of 28% in the government revenue for the financial year 1390. Mr.
Afghanistan and Pakistan officials have once again agreed to strengthen economic and bilateral ties, this time on a new set