Founder Institute partners with Afghanistan Center for Excellence to support Afghan startups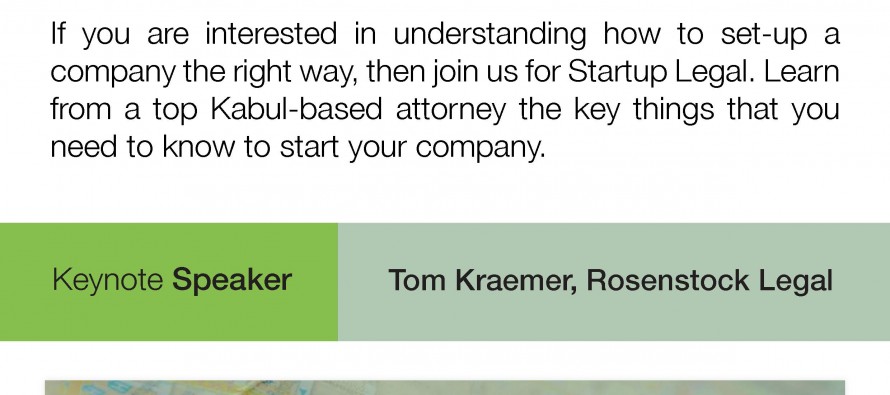 The Founder Institute, the world's premier idea-stage accelerator and startup launch program, has announced partnership between its Kabul Chapter and a local company, the Afghanistan Centre for Excellence (ACE), to support Afghan startups.
Founder Institute will begin its third cohort of its intensive four-month curriculum of structured weekly training courses and business-building assignments from August this year, and is now accepting applicants from Kabul. ACE will sponsor five successful applicants, covering their course fees, if they successfully complete the program.
ACE will also host Founder Institute's next event, Startup Legal 101, which helps entrepreneurs and aspiring entrepreneurs learn the ins and outs of the legal side of starting and running a business in Afghanistan. The event features keynote speaker Tom Kraemer, of Rosenstock Legal, a successful law firm based in Kabul. The event will run from 9:00am to 12:00pm on June 16 at ACE's headquarters in Karte 3, Kabul. Individuals should register in advance as seating is limited and must register online at: http:/FI.co/e/81941. In addition to the presentation, guests will also have the chance to ask the presenter questions, to learn more about FI's upcoming program in Kabul, and to network with the business community before and after the event.
"We're excited to work with ACE this year because it allows us to give FI startups exposure to a successful Afghan company" said Jamshid Hashimi, Co-Director of Founder Institute in Kabul. "ACE is not only going to be sponsoring some of our graduates, but also allowing them to see up close the workings of a dynamic, creative company doing well in the Afghan market, and giving them awareness of and access to the resources ACE has like shared work space," added Hashimi.
The Founder Institute is, whose graduates have created 2,100 companies launched with a 79% company survival rate, having created over 15,000 jobs (as of June 2016). FI is the most challenging and effective step-by-step Startup launch program for talented and motivated aspiring entrepreneurs. It provides a structured process, constant feedback and evaluation from expert mentors, and global network of entrepreneurs to support entrepreneurs to start an enduring company. In addition, the Founder Institute is the only program of its kind that focuses on people versus ideas, accepts founders with day jobs, and shares equity with all participants.
---
---
Related Articles
Afghanistan has witnessed a 21% increase in the export of fresh and dried fruits this year as compared to the
Exxon Mobil, an American multinational oil and gas corporation, has presented his offer for participating in the bidding for oil
Education Minister Ghulam Farooq Wardak inaugurated two schools buildings in the capital city of Kabul on Tuesday. The Qayamuddin Khadi