Fourth Cohort of Afghan Students Receives Master of Education Degree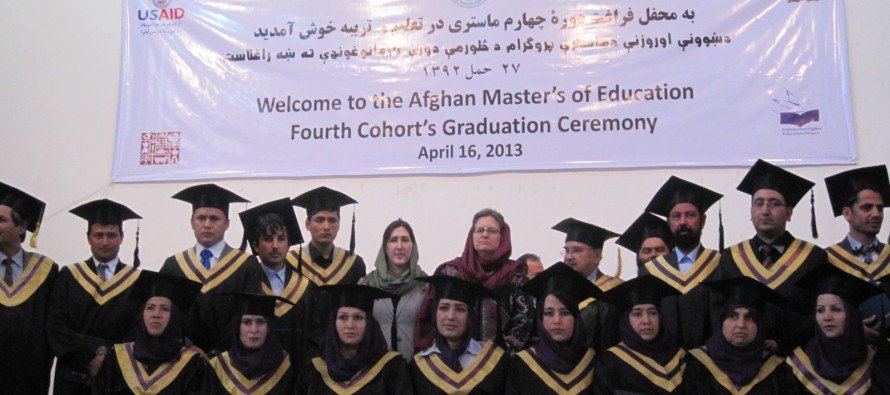 Twenty-two students received Master of Education degrees today from Shahid Professor Rabani Education University, as senior Afghan and U.S. education officials watched. The graduate program is part of a joint Afghan-U.S. effort to enhance education in Afghanistan.
The ceremony at the university celebrated the fourth cohort of students to have received M.Ed degree through the program. A total of six cohorts, each with 22 students, canada no prescription viagra has been admitted into this USAID-funded graduate program since 2007. More than half the students come from the provinces outside Kabul. Fifty per cent of india pharmacies levitra generic them are women.
Minister of Higher Education H.E. Minister Obaidullah Obaid, Kerry Pelzman of United States Agency for International Development (USAID) and other Afghan and U.S. Government officials attended. Pelzman heads the propecia w/o perscription AID office in Kabul that supports education programs in Afghanistan.
Minister Obaid congratulated the graduates and their families and thanked USAID for its continued levitra costa rica  technical and financial support. "The Ministry of Higher Education is looking forward to launching a doctoral degree program for the Master of Education graduates in the near future."
USAID supported the creation of the M.Ed. program and turned it over to the Ministry of Higher Education and the university in December 2011.
"In less than five years, Shahid Professor Rabani Education University and its partners developed and implemented a high-quality, advanced degree program," Pelzman said.
"Graduates from this program have begun to change the quality and capacity of Afghanistan's
education system."
The Master of Education Program is a component of USAID's Higher Education Project (HEP),
designed in partnership with the Ministry of Higher Education to improve the quality of teaching
and academic administration in the country.
---
---
Related Articles
The security issue in the Khanshen district in southern Helmand province has improved, but uplift projects are yet to be
According to the Ministry of Energy and Water, funding shortages, insecurity and charges from the local people are the main
China has called on members of the Shanghai Cooperation Organization (SCO) to help Afghanistan move smoothly through the transition phase.