France boosts WFP emergency response in Afghanistan while helping local economy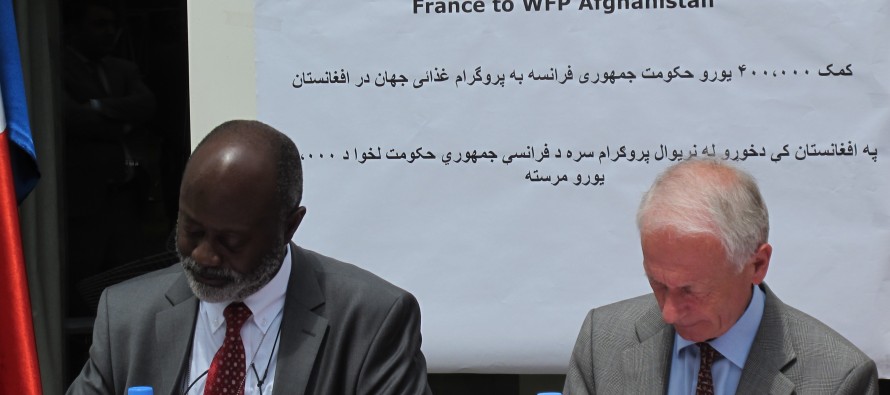 The Government of France has announced a contribution of €400,000 (US$ 424,000) to the World Food Program (WFP) to assist with emergency response in Afghanistan in 2015.
The announcement was formalized at a signing ceremony on Wednesday at the French Embassy in Kabul attended by high-level representatives from the Government of France and WFP.
The new contribution from France will enable WFP to transport and distribute locally procured food items to assist approximately 45,000 people who may be affected by natural or man-made disasters.
WFP will use the funds to purchase wheat from small-scale farmers and farmers' organizations where possible and High Energy Biscuits produced in a local factory in Afghanistan's eastern city of Jalalabad.
"This donation is most welcome not only because it provides life-saving food assistance to people in the critical first 72 hours of an emergency and beyond. It will also help support local farmers and businesses because WFP is purchasing all the food commodities locally, including High Energy Biscuits," said Claude Jibidar, WFP's Representative and Country Director in Afghanistan.
"France applauds WFP's effective and timely response to humanitarian needs in Afghanistan, as shown during the spring floods in 2014 and the flow of refugees from Pakistan. But in the future, those disasters will be more often the consequence of global warming: climate change should thus remain a concern of the Afghan authorities as much as support for disaster victims," said Jean-Michel Marlaud, Ambassador of France to Afghanistan.
Local purchase provides WFP with the fastest, most efficient and reliable means of ensuring a stable food pipeline during an emergency response. WFP buys wheat directly from smallscale farmers where appropriate, strengthening Afghan grain markets and small-scale producers' access to them.
In 2015, WFP Afghanistan plans to assist 3.4 million vulnerable Afghans in all 34 provinces of the country with food assistance through various projects including assets creation, school feeding, vocational skills training, nutrition, cash & vouchers.
About WFP WFP is the world's largest humanitarian agency fighting hunger worldwide, delivering food assistance in emergencies and working with communities to improve nutrition and build resilience. Each year, WFP assists some 80 million people in around 75 countries.
WFP has been working in Afghanistan since 1963 with the aim of helping Afghans build a hunger-free future for themselves and their country. WFP food is distributed on the basis of need, without regard for ethnicity, religion or political affiliation.
---
---
Related Articles
The German KfW Development Bank signed has agreed to provide nearly AFN 3 billion to fund regional infrastructure projects in
British Afghan Women's Society- Showing again that meaningful and efficient civilian assistance to a population hungry for peace is possible, a citizens
Japanese government has agreed to provide USD 173,236 to fund two new development projects in Nangarhar province. An agreement to